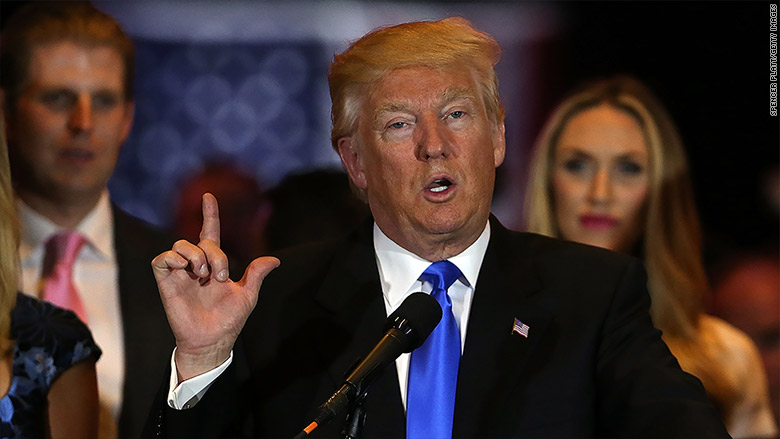 Donald Trump thinks there's a bubble in the tech industry, making him the subject of some Silicon Valley ridicule.
Trump said there are some tech companies that are "so weak as a concept ... and they're selling for so much money."
He made the remarks in an interview with Reuters, adding that there are companies that have "never made any money, have a bad concept and that are valued at billions of dollars."
Trump may have a point, but that doesn't mean Silicon Valley values his opinion.
"FINALLY someone calls it out," tweeted venture capitalist Marc Andreessen, adding. "From now on, if you say there's a tech bubble, you're agreeing with Donald Trump," in a separate tweet.
Related: Ivanka Trump on being the 'other' Trump
The number of privately held companies valued at $1 billion or more -- referred to as unicorns by the Silicon Valley set -- is now at 163, according to CB Insights. That's more than triple what it was in 2013.
These companies are changing the way we travel (Uber, Lyft, Airbnb), shop (Instacart, Postmates), work (WeWork) and make payments (Stripe). But many of them are unprofitable with unproven business models. Some, like Theranos, have had their very technology questioned. And there were exactly zero tech IPOs in the first quarter of this year.
Related: What slowdown? Tech unicorns have 100s of job openings
Techies took to Twitter to mock Trump and his "Make America Great Again" slogan, opting for a new rendition: "Make Tech Bubbles Great Again."
Trump has at least one venture capitalist on his side: Peter Thiel. Last week, news surfaced that Thiel -- who had criticized Trump in the past -- is slated to be a Trump delegate at the Republican convention this summer.