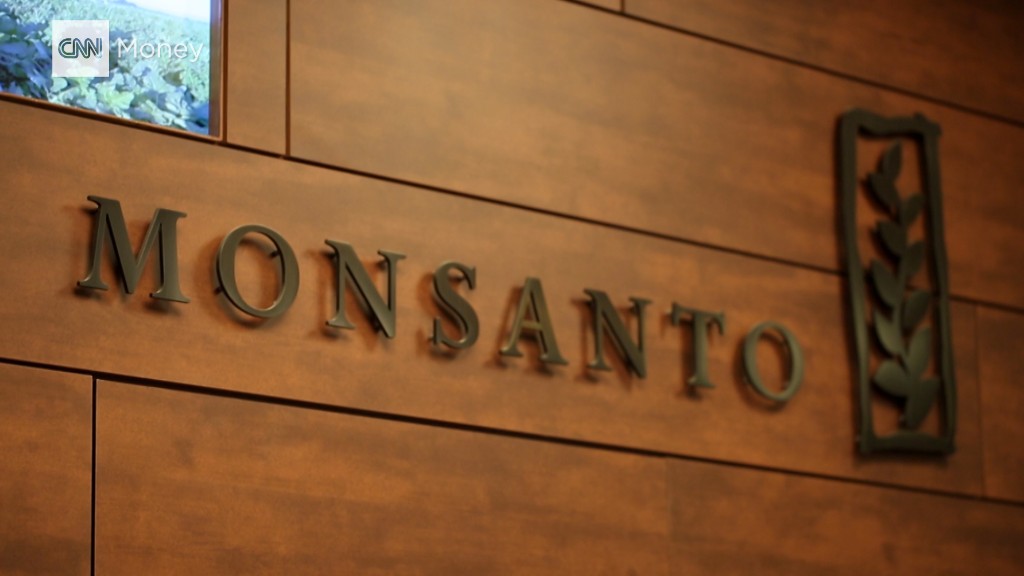 The world's largest seed seller is the target of a massive takeover bid from Bayer.
Monsanto (MON) disclosed late Wednesday that it has received an unsolicited offer from its German rival. Monsanto said its board was reviewing the proposal, but cautioned that a deal was not guaranteed.
While the companies did not disclose the offer's financial terms, Monsanto (MON) is likely to command a price that exceeds its current market value of $42 billion. Any deal would require regulatory approval.
Bayer (BAYRY), which is strongest in Asia and Europe, stands to gain from Monsanto's expertise in agriculture and seeds. The combined company would span pharmaceuticals, consumer health products, agriculture and pesticides.
Bayer would also benefit from Monsanto's regional strength in North America.
Related: Monsanto CEO frustrated over 'polarized' GMO debate
If a deal is struck, it would be the latest example of consolidation in the agribusiness and chemical sectors. Last year, Dow and DuPont combined to form a new industrial titan worth $130 billion.
Monsanto pursued a mega deal of its own in recent years, but ultimately failed to pull off a merger with target Syngenta. The Swiss company later agreed to be purchased by ChemChina for $43 billion.