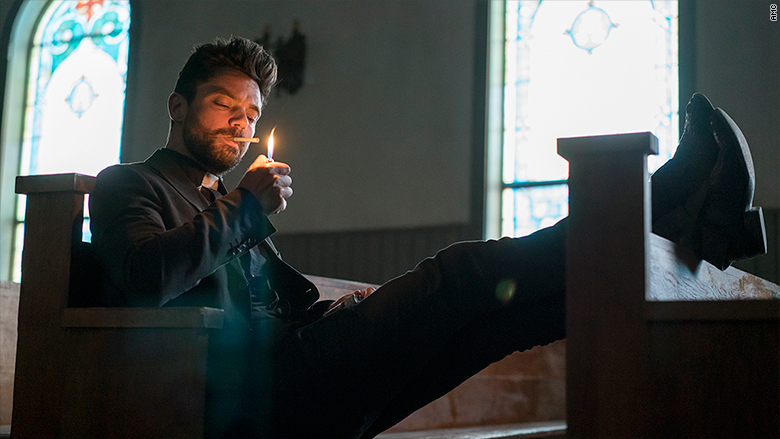 Given the tremendous success of "The Walking Dead," networks are eager to follow in its footsteps.
Enter two macabre new series: AMC's "Preacher," which is slightly incomprehensible, but intriguing; and "Outcast," a Cinemax show that comes across as a warmed-over version of "The Exorcist." (Fox, incidentally, has ordered a series directly based on "The Exorcist" for fall.)
Both shows are derived from comic books. And thanks to the comic's cultish devotion, anticipation has run high for "Preacher." The show represents a big bet for AMC. For those expecting something scabrous and different, it certainly doesn't fit many of the little boxes that development executives like to check off.
Dominic Cooper (whose credits, perhaps appropriately, include "Abraham Lincoln: Vampire Hunter") stars as the title character, a conflicted small-town preacher with a violent past, who becomes infused with a powerful spirit.
He spends time hanging out with his mercurial ex-girlfriend (Ruth Negga) and an ill-tempered 119-year-old Irish vampire (Joseph Gilgun), who sucks down booze as well as blood.
Produced by Seth Rogen, among others, "Preacher" kicks off with a 90-minute premiere and takes its sweet time getting to anything approaching the point. The story crawls along, at times confoundingly so.
Related: HBO's 'All the Way' chronicles how LBJ, the Democrats lost the South
Indeed, after four episodes there are still far more questions than answers, starting with why two gun-toting angels are after the preacher -- or more accurately, after whatever's inside him.
The pacing parallels "Better Call Saul," another AMC series awash in desolate Southwestern vistas (both are shot in Albuquerque). It's just that here, those hypnotic interludes are periodically interrupted by crazy bursts of violence and gore.
Fans of the comics, which began in the mid-'90s, will probably be happy just seeing this on screen, after several failed attempts. The uninitiated's enjoyment will likely hinge on buying the quirky atmosphere. The casting is an asset, with Gilgun and Negga sinking their teeth, pardon the expression, into showy roles.
Related: Empire' season finale highlights limits, challenges of 'shocking' TV
If "Preacher" risks testing one's patience, "Outcast" pretty quickly exhausts it. The story focuses on the emotionally wounded Kyle Barnes (Patrick Fugit), who has spent his whole life wrestling with fallout from demonic possession of those around him.
Understandably sullen and untrusting, Barnes is recruited by a fire-and-brimstone minister, Rev. Anderson (Philip Glenister), who has made exorcising evil spirits his life's mission. The number of cases in the area hints at a larger mystery, albeit one that's disgorged slowly.
While "Preacher" employs an absurdist view, wringing dark comedy from its over-the-top tone, "Outcast" is spooky but also grim and painfully earnest.
"The battle is coming," Kyle is told. But through three episodes, that mostly adds up to a lot of minor (if messy) skirmishes, including the possession of a child in the premiere, written by "Walking Dead" creator Robert Kirkman.
Perhaps foremost, these series offer a reminder that transferring such material from illustrated pages to TV is a delicate process. While "Walking Dead" mastered that feat, and FX's "The Strain" has done reasonably well, plenty of others (see "Constantine") haven't. Even a direct spinoff, "Fear the Walking Dead," has been disappointing.
Related: CBS' stability, spinoffs become network TV model at upfronts
Still, any major TV hit usually creates a zombie-like horde lumbering after it, especially in a genre known to attract hard-to-reach young men.
Of the two, "Preacher" is at least off-kilter enough to be interesting. Still, if this is the best the summer's new cable programs have to offer, heaven help us.
"Preacher" premieres May 22 on AMC. "Outcast" premieres June 3 on Cinemax.