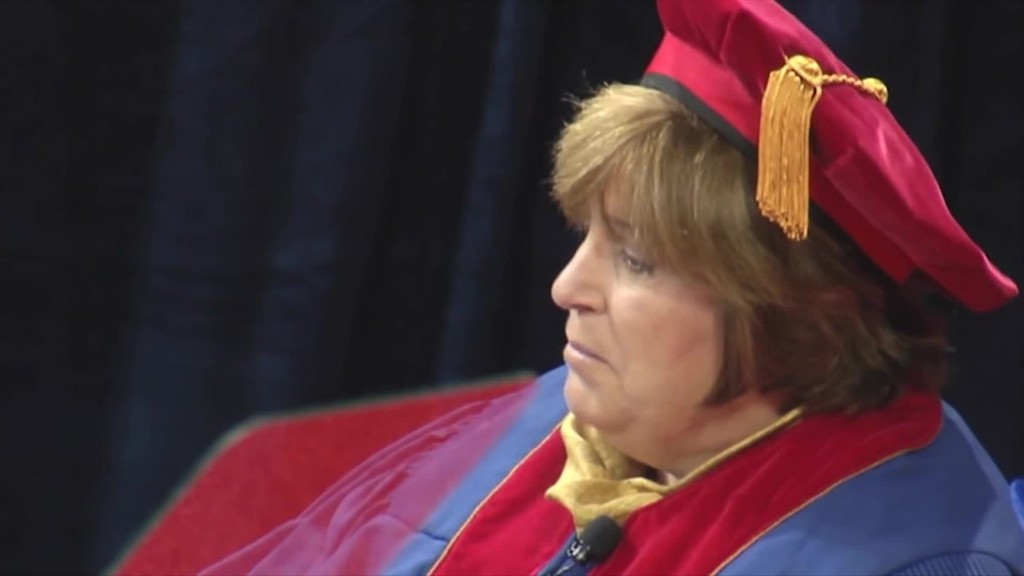 Graduation speeches are a lot like greeting cards. Most are gushy and forgettable, but one or two you find yourself holding on to, sometimes for life.
Among the many addresses to the class of 2016, the one at Southern Methodist University is worth the 15 minutes it takes to watch (CNNMoney has made a two-minute clip if you want the diet version).
It's an atypical graduation speech. There's no podium, and it's given by two people: tech power couple Richard and Mary Templeton.
They ditched the podium because Mary can't stand. In 2013, the Templeton family was on vacation at the beach. Mary waded into the ocean. A giant wave crested above her and slammed her to the ground. She hit the ocean floor in just the right way to be paralyzed instantly from the waist down.
"When you realize you won't walk again, there's a lot of stuff to work through," she said.
Related: College enrollment is dropping. Bad sign?
Before that wave came, the Templetons "had it all." They had two kids and dream jobs: Richard was president and CEO of Texas Instruments (TXN) and Mary was a computer scientist who worked for many years at GE (GE). Then the tragic accident hit.
Three years later, Richard and Mary have some pretty blunt life advice to offer.
"When life throws you a curveball, there is a way, a process to work through it to get life going again," she told the SMU graduates.
Related: Sheryl Sandberg's 2016 graduation speech got personal
Here are Mary's three steps to getting life back on track:
1. Give yourself time to emotionally deal with it. Mary thought a lot about how she screwed life up, especially for her family, in the early days of being paralyzed. You have to let all the emotions out, even if your pain medications aren't letting you think very clearly.
2. Small step phase: "Small and steady steps can be quite big and spectacular. They move you to a bigger place," she said. Going out to a dinner with friends was suddenly a milestone.
3. Get on with it phase: Eventually, you have to accept that life isn't ending, it has only changed, Richard said.
"No one cares about that darn wave," Mary told the Class of 2016. "What they care about -- and what I care about -- is what I do now."
Related: Tim Cook: How Steve Jobs changed the world
Mary has dedicated herself to volunteer work and philanthropy now. Her story echoes a lot of what Facebook (FB) COO and author Sheryl Sandberg told Berkeley graduates this May about how to pick up your life after tragedy and loss.
It was the first time Sandberg spoke in such a public way about her husband's death a year ago.
"You are not born with a fixed amount of resilience," said Sandberg. "It's a muscle. You can build it up and then draw on it when you need it. And in that process, you figure out who you really are. And you just might become the very best version of yourself."