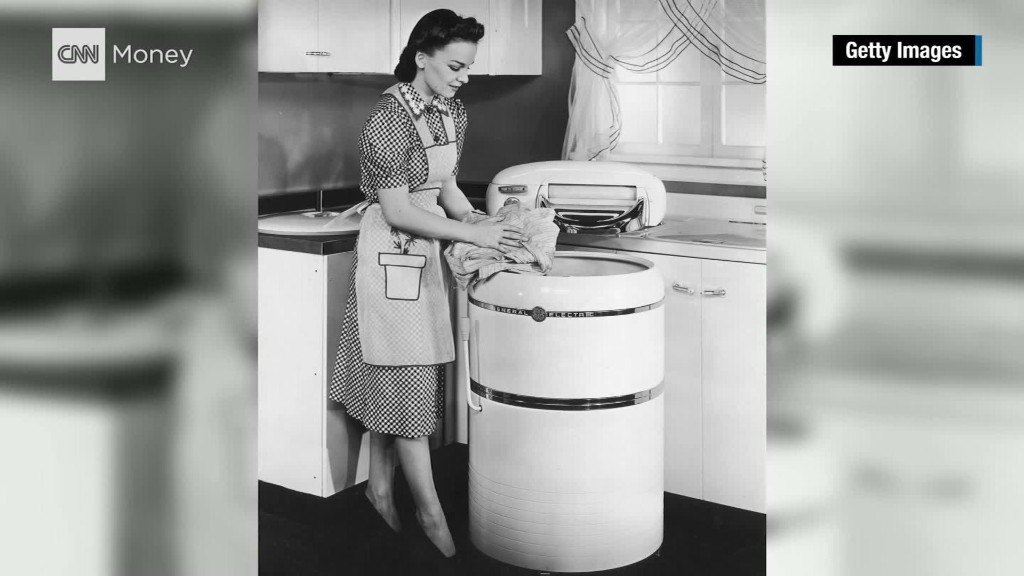 General Electric just made a big bet on Saudi Arabia's attempt to end its oil addiction.
The iconic American company announced $1.4 billion worth of investments in Saudi Arabia on Monday as part of the kingdom's "Vision 2030" plan to diversify its economy.
The big GE (GE) move will create more than 2,000 new jobs in Saudi Arabia, doubling the company's workforce in the OPEC country.
"We will create quality jobs for Saudi youth," GE CEO Jeff Immelt said in a statement released during his visit to Saudi Arabia to tout the new investments.
Saudi Arabia desperately needs those jobs. The Middle East country is grappling with youth unemployment of 29%, according to International Labor Organization stats. Those numbers could rise as cheap oil forces Saudi Arabia to make painful budget cuts, including slashing spending on key construction projects.
Saudi Binladin Group, a big construction company founded by the father of late al Qaeda leader Osama bin Laden, has fired at least 50,000 mostly foreign workers alone. Some of those workers protested the layoffs earlier this month by setting buses on fire.
Related: Saudi Arabia tries to break 'dangerous' addiction to oil
The trend is clearly worrying the House of Saud. Last month the Saudi deputy crown prince Mohammed bin Salman announced a strategy to end what he called the kingdom's "dangerous" addiction to oil. The Vision 2030 plan calls for ramping up non-oil revenue and turning the Public Investment Fund into a $1.9 trillion public fund to invest at home and abroad.
GE, which has 80 years of experience working in Saudi Arabia, said it's committed to helping the kingdom transform its economy by diversifying and creating quality jobs and training.
"Our roots are deep, and today with our partners, we are growing in a new and visionary way," Immelt said.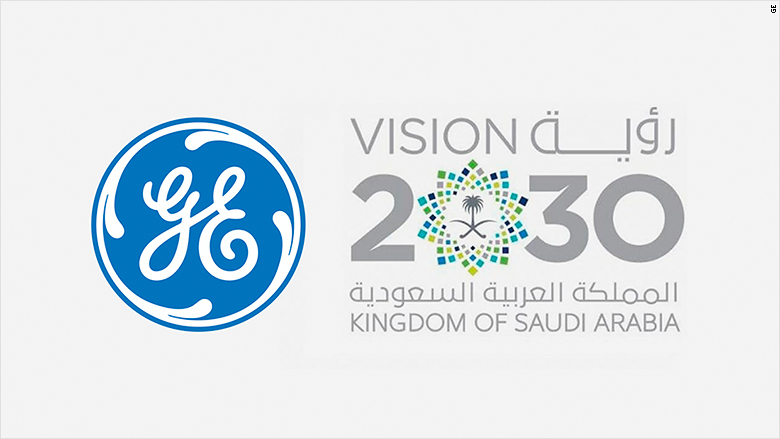 The centerpiece of the GE investment is creating a $400 million forging and casting factory that will be the "first of its kind" in the Middle East and North Africa. The plant will supply materials for the marine and energy industries, creating 2,000 new local jobs when it opens in 2020.
GE is also building a maintenance facility for military aviation engines, digitizing 10 factories with state-of-the-art manufacturing software and creating an LED lighting factory by late 2016.
GE is also aiming to double its Saudi supplier base to 300 companies, train more than 10,000 Saudi professionals and export over $100 million from the kingdom. Saudi companies in GE's current supply chain are primarily focused on oil, gas and power sector manufacturing.
Related: Looking for a job? IBM has 20,000 openings
GE's growing international footprint has become a sore spot during the U.S. election season. In April, Bernie Sanders blasted GE as a greedy company that is "destroying the moral fabric" of America by shopping jobs to Mexico and shutting down U.S. factories.
A CNNMoney analysis shows how GE, like other multinational companies, has shrunk its U.S. footprint. Just 38% of GE's workforce was in the U.S. last year, compared with 68% in 1995, SEC filings show.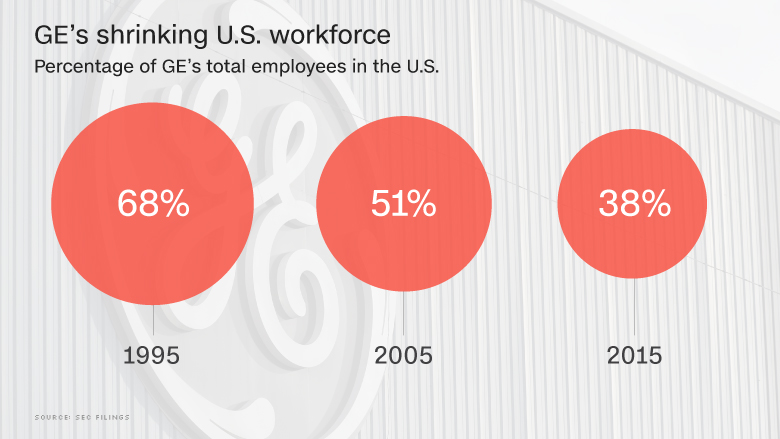 GE fired back at Bernie Sanders by noting it employs 125,000 U.S. workers and by saying it's "never been a big hit with socialists."
Jeff Immelt, the GE CEO, even addressed these concerns in a commencement speech on Friday.
"We will always be a strong American manufacturer," Immelt told graduates of NYU's Stern School of Business.
But Immelt explained that GE is pursuing a localization strategy aimed at increasing production in big end-use markets like Saudi Arabia.
"We are not pursuing low wages," he said. "We are using a manufacturing strategy to open markets."
Still, GE's confidence in Saudi Arabia stands in contrast with the doom and gloom offered by some big investors. Zach Schreiber, a star hedge fund manager who correctly predicted the oil crash, recently warned of a looming financial disaster in Saudi Arabia.