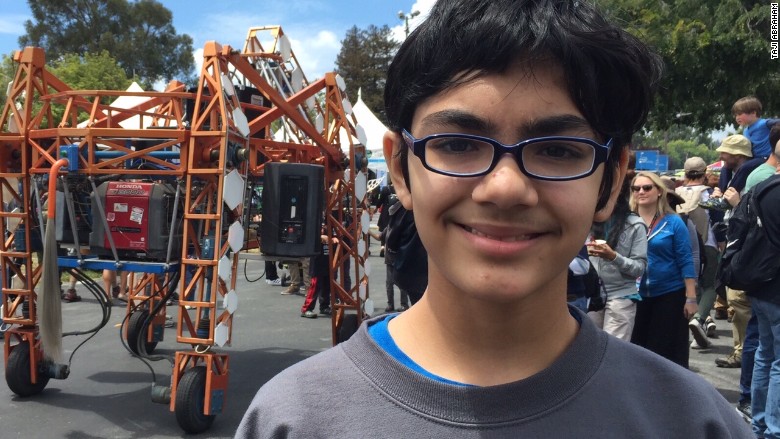 12-year-old Tanishq Abraham has some pretty ambitious life goals. To be a doctor, medical researcher -- and the president of the United States.
First stop: Graduating from college. He was accepted into both UC Davis and UC Santa Cruz, where he received a prestigious regents scholarship.
"I was really excited when I got into Santa Cruz and UC Davis. I've been waiting to transfer for a few years now," he told CNNMoney. "This was a really big moment for me."
That's right, college won't exactly be new for Tanishq. He's been attending community college part time since he was 7, received his high school diploma at 10 and has already earned three degrees from a community college in Sacramento.
Related: This 14-year-old turned down a $30M buyout offer
He'll transfer as a junior into either UC Davis or Santa Cruz. He has until June to make his decision.
Tanishq said he's been eager to attend one of the universities because he'll finally be able to start doing lab research.
"I've always wanted to start working in a lab," he said. He's not sure what kind of doctor he wants to be just yet but is interested in cardiology and neurology.
His studies haven't come without a lot of parental sacrifice, though.
"He progressed at a very fast rate," said his mother, Taji, who said her son asked to start taking college courses at age 6.
Related: 15-year-old steps down from startup because ... high school
Taji, 48, said she and her husband, a software engineer at a robotics firm, did their best to keep their son in public school. But at age 7, they felt it was best for him to be homeschooled and to take some courses at the community college.
"He's very passionate about knowledge and very, very determined," she said.
Taji, who earned her veterinarian degree in India before having kids, said she enrolled in a few courses with her son like geology and astronomy.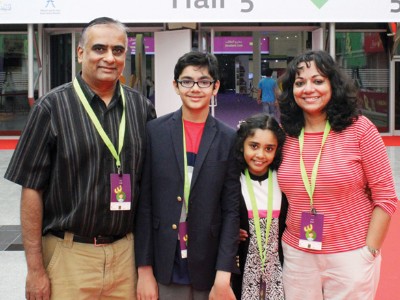 "We were pretty much classmates. That was a unique experience," she said. And initially, she had to get approval from individual professors to let Tanishq attend their courses. "We got lots of rejections considering his age. There was finally a professor willing to give it a try," she said.
These days, Taji said she spends a lot of time chauffeuring her kids.
Tanishq has a 10-year-old sister, Tiara, who is homeschooled and equally advanced, but in very different subjects: music and foreign languages. The two have a Facebook page called "adventures of child prodigy/child genius."
"It is hard having a child with so much passion about learning, but so far we have managed it for about five years," said Taji.
Related: From bullied teen to 17-year-old CEO
Tanishq's father, Bijou, said there's a misconception that Tanishq must be constantly studying.
"He loves to laugh and play. He's a fun-loving kid," he said. "As parents, we want to make sure he has a well-adjusted childhood."
And even though Tanishq is a lot younger than his classmates, he's not shy about making friends.
"I don't feel different, I relate to them. I interact with them just like I would with anybody," he said. "I make friends really fast, I'll be able to adjust."
When he's not in class, he said he loves a good game of Mario Kart, watching movies or playing games with his sister.
While he's excited about attending one of the UC schools, there's one thing he's struggling to understand: Why he wasn't accepted into Stanford.
"I don't know why they didn't accept me. I wish they accepted me," he said, adding that he was particularly interested in Stanford because of some of the school's researchers. He referenced the high school senior's college essay on Costco that got her accepted into Stanford.
"Maybe my story isn't interesting," he said. "Maybe they need more interesting stories like that."