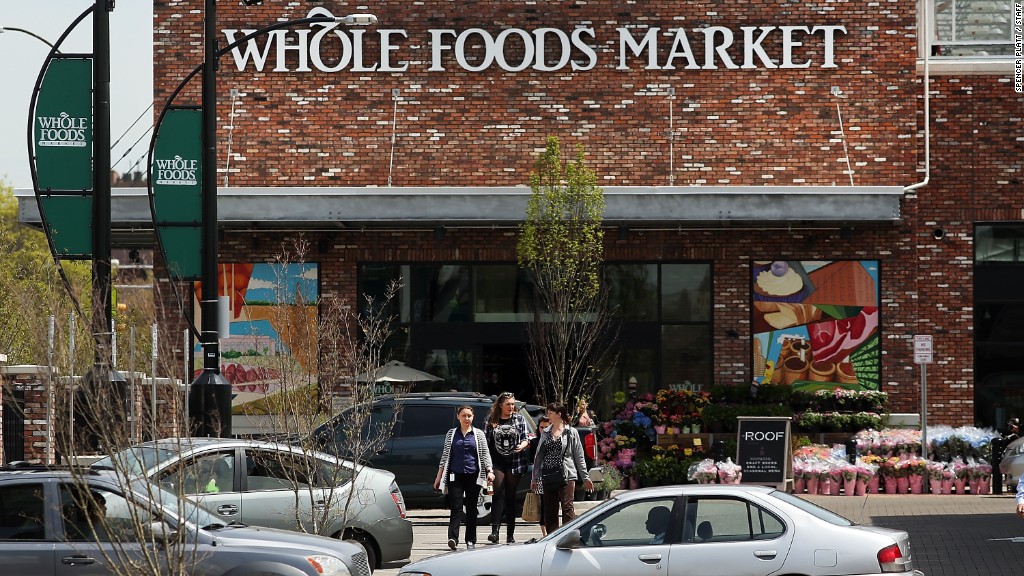 Can urban Millennials get Whole Foods back on track? We may soon find out.
Whole Foods is opening its first 365 by Whole Foods Market store Wednesday in the Silver Lake neighborhood of Los Angeles.
This is the first of several 365 stores the company has in the works. Two in the Pacific Northwest (Bellevue, WA, and Portland, OR) are opening later this year while 10 more are slated to open in 2017.
The 365 stores will be smaller than a regular Whole Foods supermarket and they will be mostly based in cities. They will compete in some markets with other Whole Foods though. It's not as if Whole Foods are only located in the suburbs. But the 365 stores will be a bit different from their namesake parent.
For example, the L.A. store will have a craft brew bar for hot coffee and cold beer, as well as a self-serve tea kiosk and a vegan restaurant. In other words, the company is trying really hard to cultivate a cool, hip image with the under 34-year old crowd.
Whole Foods (WFM) really needs 365 to do well. That's because the stock, unlike the prices of many of the products in its stores, is in the bargain bin.
Shares are down 7% so far this year -- following a more than 10% drop in 2014 and 33% plunge in 2015.
Related: Why Whole Foods CEO envies Trader Joe's
The company has struggled to compete with other specialty grocers -- most notably Trader Joe's -- and is also feeling more pressure from Kroger (KR), Walmart (WMT) and Target (TGT) -- who have all found religion in organic products during the past few years.
Whole Foods has reported a drop in same-store sales -- sales at stores open at least a year -- for the past three quarters. Analysts are expecting declines for the next two quarters as well.
The company is still reeling from allegations in New York City last year that it was overcharging customers. Whole Foods agreed to pay $500,000 to regulators in December to settle the charges though.
Try as it might, there is still a perception that Whole Foods is a place that sells mundane items for exorbitant prices.
"Two baby carrots tied together with artisanal twine" was one of the fictitious items that HBO's John Oliver showed in a segment mocking Whole Foods on his show last year. (HBO is owned by CNNMoney parent company Time Warner.)
Price wars: Trader Joe's is beating Whole Foods
But asparagus water -- stalks of asparagus in a bottle of water for $6 -- was a real item briefly on sale in another Southern California Whole Foods. The company has said that was a mistake by a rogue employee.
So the 365 stores appear to be another way for Whole Foods to try and prove that it can be a place where people can find affordable groceries. Whole Foods has stressed that the 365 format is a "quality-meets-value shopping experience."
But investors appear to be saying that Whole Foods stock is neither quality nor value just yet.