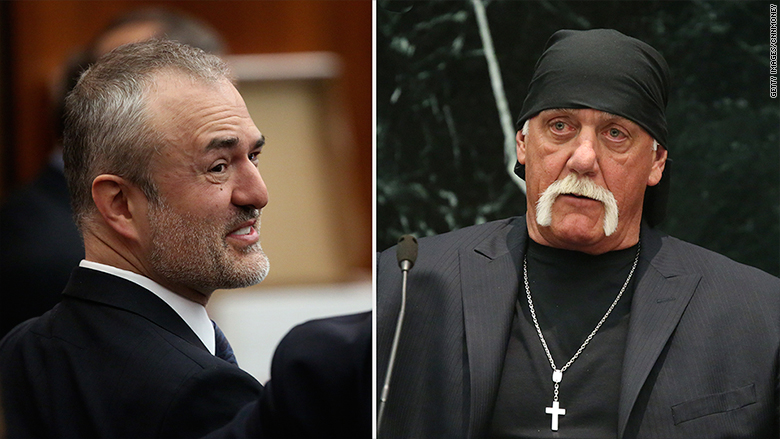 Down but not out after a staggering verdict, Gawker Media is itching for a rematch in its legal battle with Hulk Hogan.
The two sides will be back in court on Wednesday in St. Petersburg, Florida, as Gawker seeks a new trial in Hogan's invasion of privacy case against the company.
Hogan, whose real name Terry Bollea, was awarded $140.1 million by a jury in March over Gawker's publication of his roughly decade-old sex tape.
Less than a month after that verdict, Gawker filed a motion asking for a new trial, or for a reduction -- if not total reversal -- of the monetary damages.
A six-person jury in St. Petersburg awarded Hogan $115 million in compensatory damages and then tacked on an additional $25.1 million in punitive damages.
Gawker has decried the way the trial was adjudicated, arguing that "key evidence was wrongly withheld" and that the jury "was not properly instructed on the constitutional standards for newsworthiness."
Related: Documents the Hulk Hogan jury didn't get to see
The evidence consists of nearly a thousand pages of documents that had been sealed by the presiding judge, Pamela Campbell.
A Florida appeals court reversed Campbell's ruling to seal the documents mere hours before the verdict was handed down, making public scores of legal briefs that -- as Gawker sees it -- suggest Hogan's lawsuit was driven by his desire to suppress a racist rant recorded in another sex tape.
Gawker also laments that Campbell quashed its motion to subpoena Bubba "the Love Sponge" Clem, the shock jock who recorded the tryst between his ex-wife and Hogan.
If Campbell is not sympathetic to Gawker's arguments on Wednesday, Gawker is confident that it will emerge victorious when the case reaches Florida's Second District Court of Appeals.
"The notion that Hulk Hogan is owed $140 million for snippets from a sex tape made by his best friend -- after he's made his sex life an open book -- is patently absurd to everyone other than his lawyers who want a pay day," Gawker said in a statement on Tuesday. "As we've said all along, we expect the appeals court will rule in our favor."
Related: How does Gawker survive the Hogan verdict?
The hearing on Wednesday comes on the heels of a fresh Hogan lawsuit against Gawker. The former wrestler alleges that the web site leaked a sealed transcript from one of the sex tapes. That transcript, which showed Hogan using the N-word, was reported by The National Enquirer last summer.
Hogan's attorney Charles Harder is also representing freelance journalist Ashley Terrill, who sued Gawker in January for libel over its publication of what she described as "a false and highly defamatory hit-piece."
Last month, Harder brought another lawsuit against the company on behalf of Shiva Ayyadurai, who alleges that Gawker published "false and highly defamatory" stories ridiculing his claim to have invented email.
The string of lawsuits prompted Gawker founder Nick Denton to float an arresting theory this week.
In an interview with the New York Times published on Tuesday, Denton made public what has been a persistent rumor: that Harder's lawsuits are bankrolled by a wealthy benefactor who has it out for Gawker.
"If you're a billionaire and you don't like the coverage of you, and you don't particularly want to embroil yourself any further in a public scandal, it's a pretty smart, rational thing to fund other legal cases," Denton told the Times.
Harder told CNNMoney in an email that he does not "discuss with the press the finances of my clients, including the arrangements they have with my firm."
"This applies to all clients of my firm," he said.