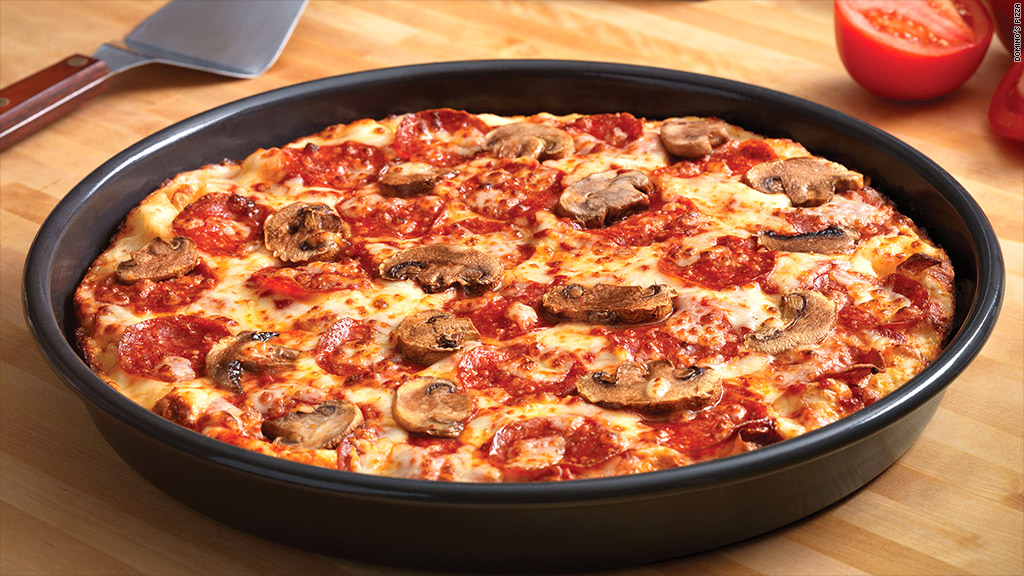 Domino's has been knowingly short-changing some of its workers for years, according to a new lawsuit.
The pizza chain systematically underpaid its workers, failed to pay overtime and didn't reimburse delivery staff for their gas, miles and wear and tear on their bikes, New York Attorney General Eric Schneiderman said on Tuesday. Over two years, the company underpaid its staff $565,000 at 10 stores in the state, he claimed.
Schneiderman brought the lawsuit against Domino's and three of its franchisees. It's Schneiderman's second lawsuit against Domino's. Last year, his office settled with 12 Domino's franchisees for $1.5 million after they were found to be underpaying their workers.
In addition to three new franchisees, the new lawsuit was also filed against the Domino's parent company. In the suit, Schneiderman argues that Domino's (DPZ) is a joint employer of the underpaid workers.
That's not an obvious point: The National Labor Relations Board is currently suing McDonald's in a landmark case that will try to establish that McDonald's is jointly liable with its franchisees for labor law violations.
In response, Domino's said Schneiderman's lawsuit "disregards the nature of franchising and demeans the role of small business owners." If successful, the pizza chain said the lawsuit could "deprive our independent business owners of the opportunity to make their own employment decisions."
The company didn't deny that its franchisees were underpaying workers, however. Domino's said it had been working with Schneiderman's office for more than three years to help its franchisees get up to code.
"It's unfortunate that these steps were not enough," said Tim McIntyre, spokesman for Domino's. "We will continue to take those steps which we are permitted to take to foster our franchisees' compliance with the wage and hour laws, not because we are obligated to do so, but because we think it's the right thing to do."
Schneiderman's latest lawsuit is part of his office's multi-year investigation, which alleges that Domino's knew for years that its computerized payroll system under-calculated employees wages.
Related: Domino's pizza delivery robot is coming to your door
The New York Attorney General said Domino's actions were blatant. The company made multiple updates to the payroll system every year, but it did not fix the underpayments, deeming that flaw a "low priority," according to the lawsuit.
Since the parent company instructed the franchisees to use the computerized payroll system, Schneiderman claims that Domino's is just as liable as the franchisees who underpaid their workers.
"At some point, a company has to take responsibility for its actions and for its workers' well-being," Schneiderman said in a statement. "We've discovered that Domino's headquarters was intensely involved in store operations, and even caused many of these violations."
The company has 136 franchisee-owned stores in New York, along with 54 owned by Domino's itself.