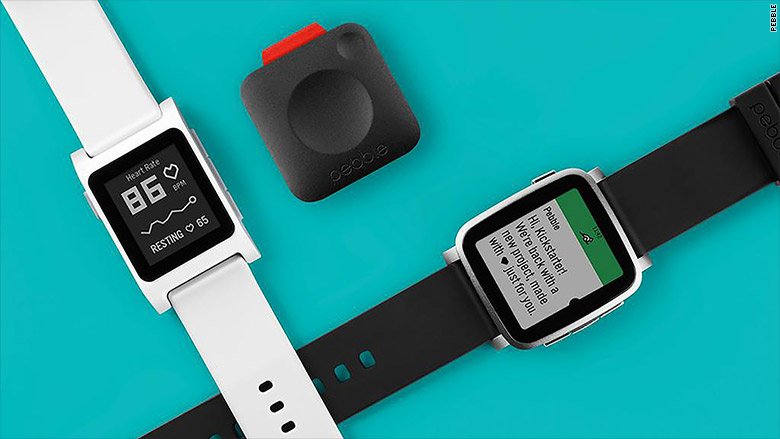 Pebble just announced all of its new products for this year and -- surprise! -- the company is making its first-ever, non-smartwatch device, called the Pebble Core.
The Core is a tiny cube-sized computer that's meant to work with a Pebble smartwatch and take the place of a smartphone.
The Core can take a SIM card to get 3G cellular service and it contains a GPS tracker and a microphone.
The buttons on the Core can be programmed to perform a variety of tasks, such as hailing an Uber or opening a garage door. There's also an option to send someone an emergency message, and the ability to stream Spotify.
"We think it's an optimal device for a runner," CEO Eric Migicovsky said in an interview.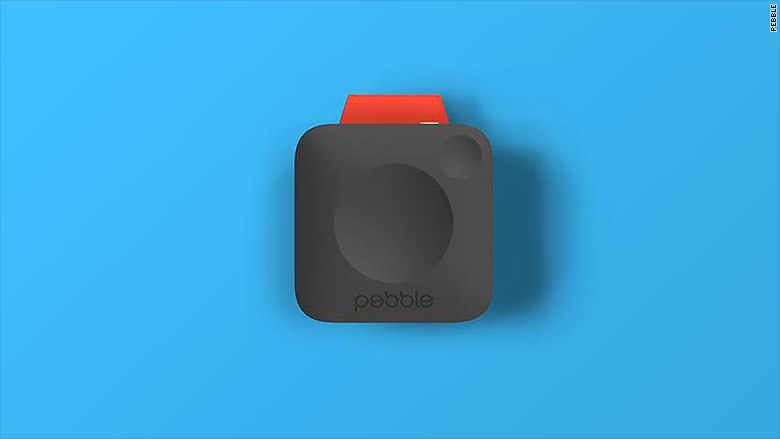 The Core can be clipped to a shirt using a magnetic fastener or carried around on a keychain. Battery life is expected to last a week.
Related: Pebble laying off 25% of staff
As a category, wearable and fitness devices have not lived up to their initial hype. But the trends aren't indicative of how well the devices work, argues Duncan Stewart, director of technology research for Deloitte Canada.
"We're talking about human behavior," he told CNNMoney. "Fitness bands are the high-tech equivalent of the January gym membership." About two-thirds of the devices are abandoned after 18 months of use, Stewart added.
Poor battery life and lack of cellular connectivity are common complaints about wearables too, so the Pebble Core is solving some of those pain points. But given that it's also a smartwatch companion device, some people might still find it troublesome to carry an additional thing around even if they are leaving a bulkier smartphone at home.
The Core went on sale Tuesday for $69 to early Kickstarter backers and will ship in January 2017. This may come as a disappointment to those who might see this as a good stocking stuffer, but Migicovsky said the company didn't want to rush the product.
Related: Fitbit flatlines. Stock plunges on weak outlook
On Tuesday, Pebble also announced the Pebble 2 and Pebble Time 2, the latest versions of its classic smartwatch and stainless steel case model.
Both new watches have been updated to appeal to fitness fanatics and now feature a heart rate monitor and Pebble's health tracking software system.
The company is once again selling its new devices through Kickstarter, hoping to see the same success it has in the past.
For early backers the Pebble 2 is on sale for $99, and the Pebble Time 2 is on sale for $169. The regular retail price will be $129 and $199.
Using Kickstarter is "the most efficient means of getting the word out to our users," Migicovsky said.
Pebble holds two Kickstarter records for being the among the most funded projects on the platform.