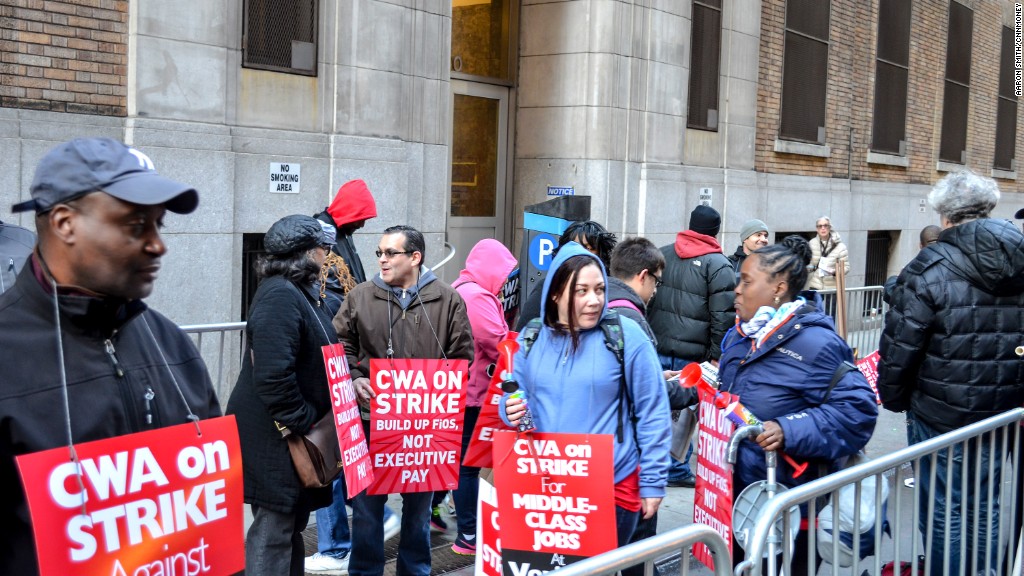 It's been more than a month since nearly 40,000 Verizon workers went on strike. And it looks like the labor problems are taking a toll on Verizon's business ... and its stock.
Investors have hung up on Verizon (VZ) lately. Shares are down nearly 5% since the strike began on April 13.
That's worse than the broader market as well as telecom and cable rivals AT&T (T) and Comcast (CMCSA).
The Communications Workers of America, one of the unions representing the striking workers, has been gleefully pointing out how Wall Street has dumped Verizon.
In a recent press release, the CWA noted that Wells Fargo recently slashed its revenue estimates for Verizon for the second quarter and full year.
And while investors should obviously take any gloating from the CWA with a grain or two of salt, the union's claims aren't off the mark. Not by a long shot.
The strike clearly is having a financial impact. Wells Fargo isn't the only bank to trim its outlook for Verizon. Wall Street's consensus earnings estimate for Verizon for the second quarter has fallen by 4% over the past two months.
Related: Verizon strikers say they are sick of working hours away from home
That may not sound like a lot, but any reduction is a big deal for a company like Verizon since it is not exactly a sexy, high growth tech company to begin with.
Verizon executives are even conceding that the strike is going to hurt its performance for a bit.
Verizon CEO Lowell McAdam conceded at an investor conference Tuesday that it will be hard for Verizon to sign up as many new customers -- particularly for its FiOS Internet and TV services -- as it did in the first quarter before workers went on the picket lines.
"We have pushed off installations. We're doing a lot of installations, but we're not doing the same volume that we had before," McAdam said.
Those comments follow similar ones from CFO Francis Shammo at another investing conference last week.
Shammo said that with workers on strike, Verizon has to focus more on repair and maintenance needs of current customers -- even if that means sacrificing some growth in the short-term.
"When we do installs for FiOS, there's a lot of capital labor that goes with that. Our installs and new orders have significantly dropped," he said.
Verizon can ill afford a lengthy labor dispute -- it could be a distraction to management as the company looks to get even bigger in the cutthroat world of online media and content.
Verizon is seen as one of the leading bidders for the core assets of Yahoo (YAHOF). Verizon already owns AOL and experts think that a marriage of AOL's TechCrunch and Huffington Post with the sports and finance news sections of Yahoo makes strategic sense.
Related: Verizon strikers take their fight to shareholders
But juggling a Yahoo merger while also trying to get workers back on the job may be a difficult task.
AT&T is an even tougher competitor to Verizon on the video side of things thanks to Ma Bell's purchase of DirecTV. And T-Mobile (TMUS) is nipping at Verizon's (and AT&T's) heels in wireless.
Some Verizon investors may be content to continue owning the stock thanks to its juicy dividend, which yields 4.6% -- more than double what you get from holding a 10-Year Treasury bond.
But Verizon is trying to shed its stodgy widows and orphans image. That's why it has invested aggressively in mobile and digital initiatives.
So if the workers' strike stretches on for much longer and Verizon's stock continues to lag its top rivals, it may put more pressure on Verizon to make a deal with the union.
Or to borrow the company's old marketing catchphrase, can you hear Wall Street now? Investors have clearly voiced their disapproval with all the balls that Verizon management is juggling.