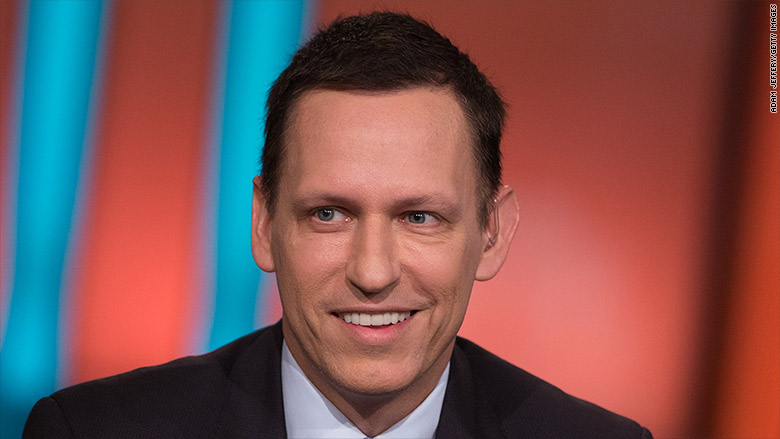 Peter Thiel is a lot of things. He's a Silicon Valley billionaire who cofounded PayPal and Palantir. He's a venture capitalist at Founders Fund, which has invested in companies like Airbnb and Space X.
He was an early backer in a number of high-profile companies, including Facebook, LinkedIn and Yelp.
He's passionate about the safe development of artificial intelligence, believes in legal marijuana, and advocates for anti-aging research.
And now Thiel has something else to add to his resume: He told the New York Times on Wednesday that that he's been secretly financing Hulk Hogan's lawsuit against Gawker Media.
In March, Hogan was awarded $140 million. Gawker founder Nick Denton said that few media companies could afford that kind of a payout.
It's not completely surprising that Thiel would have it out for Gawker.
After all, his personal life was exposed by Gawker's tech blog, Valleywag, back in 2007, when it ran an article titled, "Peter Thiel is totally gay, people." The article outed Thiel, who is now openly gay. Denton was the first to comment on the post. "The only thing that's strange about Thiel's sexuality: why on earth was he so paranoid about its discovery for so long?"
Thiel never hid his disdain for the site, saying in 2009 that "Valleywag is the Silicon Valley equivalent of Al Qaeda."
When news of Thiel's possible involvement in the Hogan case surfaced, many people were concerned about what this means for the freedom of the press. Can a billionaire actively work to put a news outlet out of business?
That, after all, seems at odds with Thiel's financial support of the Committee to Protect Journalists.
Between July 2008 and January 2013, the Thiel Foundation donated more than $1 million to the organization. For its part, CPJ said it supports the rights of individuals seeking redress from defamation but doesn't support efforts to bankrupt an organization.
This is far from the only contrarian thing about Thiel, who is also the author of the New York Times' bestseller, Zero to One, where he argues that monopolies should be the goal for entrepreneurs. Here are some more:
1. He doesn't believe in higher education, yet he taught at Stanford University.
In 2012, Thiel agreed to be a guest professor at Stanford University, teaching students about computer science and startups.
Thiel, who was born in Germany, studied philosophy at Stanford University and went on to earn his J.D. from Stanford Law. But in 2011, he launched the Thiel Foundation, which gives young entrepreneurs $100,000 to forgo college and start a tech company instead.
Of his professorship, he told the London Daily Mail: "If I do my job right, this is the last class you'll ever have to take."
2. A self-professed libertarian, he is slated to be a Donald Trump delegate this summer.
In 2009, Thiel wrote about why he's a libertarian, calling politics "way too intense."
"Politics gets people angry, destroys relationships, and polarizes peoples' vision: the world is us versus them; good people versus the other. Politics is about interfering with other people's lives without their consent. That's probably why, in the past, libertarians have made little progress in the political sphere. Thus, I advocate focusing energy elsewhere, onto peaceful projects that some consider utopian."
In recent years, Thiel has, however, been a supporter of the Republican Party. He was a large donor to Ron Paul's 2008 presidential campaign and funneled money to the Super PAC Conservative Authentic Responsive Leadership, which backed Carly Fiorina.
Trump -- and Thiel -- aren't entirely at odds. They're both known for being blunt, making sweeping generalizations and being unapologetically opinionated.
3. He's anti-government, but his company Palantir mines consumer data for the government.
The CIA backed his latest company, Palantir, which has banked more than $2.5 billion since launching in 2004. The secretive software company makes it easier for clients like banks and police agencies to search and analyze data to track down criminals and terrorists.
That's at odds with his stance about government control, which he's said was the vision behind PayPal.
PayPal, he wrote, was inspired by the idea of creating a currency "free from all government control and dilution."
Thiel defended Palentir's role in a Fortune article in March. "The government was collecting a lot of data [in the war on terrorism], more than they could analyze," he told Fortune. "If we could help them make sense of data, they could end indiscriminate surveillance."