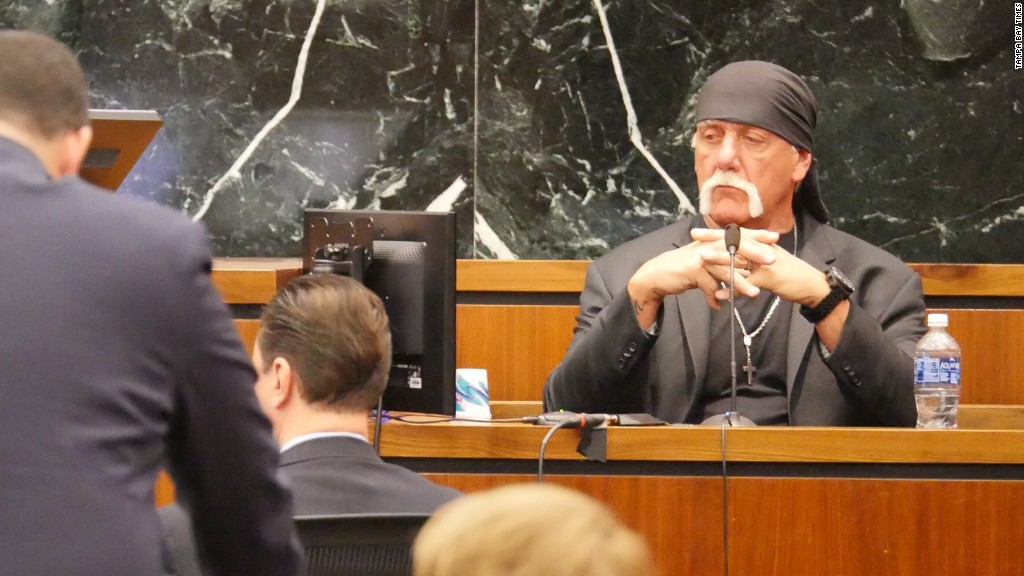 Peter Thiel says it's him.
The billionaire tech entrepreneur has confirmed long-held suspicions that he's been secretly financing Hulk Hogan's invasion of privacy lawsuit against Gawker Media.
And that's not the only case he is bankrolling. In an interview with The New York Times on Wednesday, Thiel said he is supporting at least one other lawsuit against the controversial digital media company.
"I am proud to have supported Terry Bollea in his successful fight against a bully's gross violation of privacy," Thiel said in a statement to CNNMoney.
"Gawker, the defendant, built its business on humiliating people for sport," he said. "They routinely relied on an assumption that victims would be too intimidated or disgusted to even attempt redress for clear wrongs. Freedom of the press does not mean freedom to publish sex tapes without consent. I don't think anybody but Gawker would argue otherwise."
Thiel isn't alone in his dislike for Gawker. But he is uniquely able to use his deep pockets to act on it. A Florida jury recently awarded Hogan $140 million.
Related: Who is Silicon Valley billionaire Peter Thiel?
Gawker is appealing. But the case continues to be a huge financial threat for its founder Nick Denton, who thought Thiel might be behind it but didn't know for sure until this week.
Denton told The Times on Wednesday night, "Just because Peter Thiel is a Silicon Valley billionaire, his opinion does not trump our millions of readers who know us for routinely driving big news stories including Hillary Clinton's secret email account, Bill Cosby's history with women, the mayor of Toronto as a crack smoker, Tom Cruise's role within Scientology, the N.F.L. cover-up of domestic abuse by players and just this month the hidden power of Facebook to determine the news you see."
When reached by CNNMoney, Denton declined to comment further.
Some observers speculated that the revelation of Thiel's involvement would assist Gawker in its appeals. Others predicted that it would have no impact. Third parties are free to finance others' legal battles for them.
Thiel would not comment on how much he has spent so far, but the Hogan case has been going on for several years. A $10 million estimate is "roughly in the ballpark," he told The Times.
"This is not a business venture," he added.
But it is personal. Gawker's now-shuttered tech blog Valleywag previously wrote candidly about Thiel's business dealings and personal life, publishing a story in 2007 titled, "Peter Thiel is totally gay, people."
Thiel told The Times that his financing is "less about revenge and more about specific deterrence."
Stories published by Gawker have been "very painful and paralyzing for people who were targeted," including friends of his, he said. "I thought it was worth fighting back."
On Tuesday morning, Denton's suspicion about a secret financial backer was shared publicly by Times columnist Andrew Ross Sorkin. Later that day, Forbes reported that it was Thiel, citing anonymous sources. A Thiel spokesperson declined to comment to CNNMoney on Wednesday.
Related: Hulk Hogan has brought second lawsuit against Gawker
In Sorkin's followup article on Wednesday night, Thiel said, "I figured it would eventually come out." But he did not explain why he kept it a secret for years.
In a quote that was widely ridiculed by journalists on Twitter, Thiel said he considered his bankrolling of the Hogan suit to be "one of my greater philanthropic things that I've done. I think of it in those terms."
The invasion of privacy suit, revolving around a blog post about a Hogan sex tape, has certainly placed Gawker on the defensive. It's also fueled public discussion about the right to privacy versus freedom of the press.
But the news of Thiel's involvement has set journalists outside the company abuzz about the potential chilling effects of a billionaire secretly funding court cases to cripple a news outlet.
"Petty, vindictive billionaires like Thiel literally have the power to destroy media outlets in secret," Pulitzer Prize winner Glenn Greenwald tweeted on Wednesday.
"You may not like Gawker. They've published stories I would have been ashamed to publish," Talking Points Memo publisher Josh Marshall wrote. "But if the extremely wealthy, under a veil secrecy, can destroy publications they want to silence, that's a far bigger threat to freedom of the press than most of the things we commonly worry about on that front."
Jack Shafer, a columnist for Politico, wrote cheekily, "By secretly investing in the Hogan lawsuit, Thiel has done the impossible: He's made us sympathize with Gawker."
-- Tom Kludt contributed reporting.