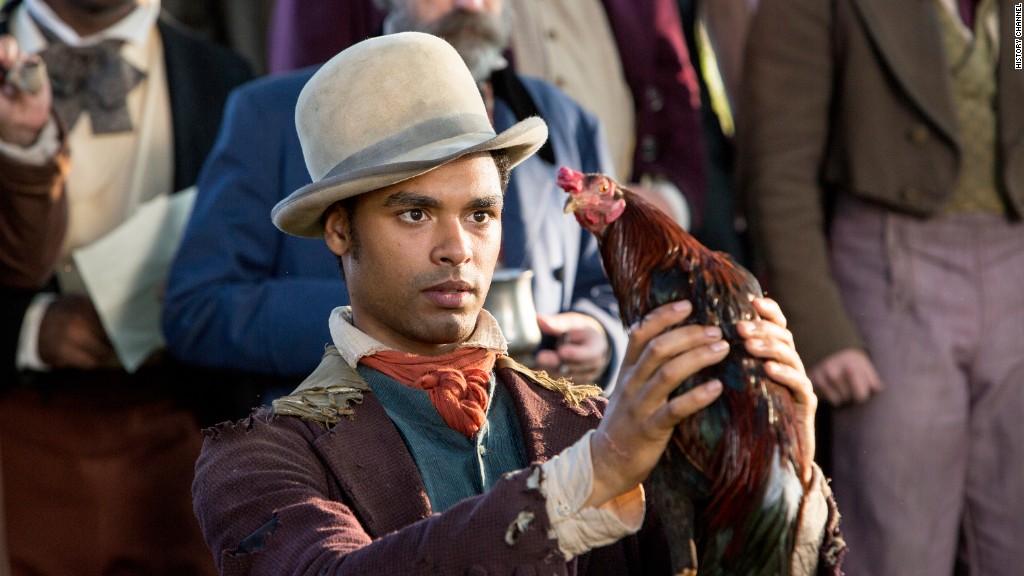 America came to a virtual stop nearly 40 years ago, during the eight-day stretch when "Roots" aired. The TV world has changed dramatically since then, but that hasn't stopped History from delivering a credible, at times moving version of Alex Haley's story for another generation.
Despite its astonishing success, which famously left restaurants and bars empty, the original "Roots" had its flaws. But it captured the experience of slavery in searing detail, in a way that was startling, groundbreaking and emotional for the time.
The new version condenses Haley's sweeping multi-generational book into eight hours instead of 12, which invariably requires some tough choices. New aspects of the African-American experience are accentuated -- such as the treatment of those who fought in the Civil War -- and others jettisoned.
Once again, the narrative spans more than 100 years, from the abduction of young Kunte Kinte (Malachi Kirby) in Africa to his grandson, Chicken George (Rege-Jean Page), finally securing freedom.
Related: 'Apprentice' was key to Donald Trump's candidacy, NBC executive says
If anything, though, this update has matched or improved on the casting in several key roles, while dialing back the big-house drama to focus more squarely on the slaves' stories.
It has also rolled the dice, and succeeded, in choosing its young newcomers as Kunte and George, aging them along with the characters. Anika Noni Rose is also wrenching as Kizzy, Kunte's daughter, who he teaches to carry along his African traditions and family history.
The first chapter, not surprisingly, remains the most powerful, as Kunte -- after an introductory stretch in his Mandinka village -- is snatched by slavers. The boat trip to America is grisly and horrifying, with one of the abused young girls seeking to throw herself overboard, shouting, "Death has more honor."
Related: ESPN's 'O.J.: Made in America' a master class on race, sports and media
Arriving in Virginia, Kunte sees blacks working in the fields and asks, "Why don't they run?" His resistance leads to increasingly brutal punishments, with an overseer pointedly telling his master, "You can't buy a slave. You've got to make a slave."
Kunte receives guidance from Fiddler (Forest Whitaker), who has learned how to curry the masters' favor. Yet as is demonstrated time and again, even that approach is no shield against slave owners' cruelty and mercurial whims.
"Roots" proceeds through the Revolutionary War, Kizzy's birth and her sale to the cruel Tom Lea (Jonathan Rhys Meyers), who fathers her son, George. There are, again, sizable jumps in time, with characters abandoned as the torch passes from one generation to the next.
Related: 'Walking Dead' is huge. So here come 'Preacher' and 'Outcast'
The producers include Mark M. Wolper, the son of the late miniseries maestro David L. Wolper; and LeVar Burton, who originally played Kunte Kinte. They have enlisted veteran directors (Phillip Noyce, Mario Van Peebles, Thomas Carter and Bruce Beresford), and surrounded their leads with better-known stars, albeit some (Anna Paquin, Laurence Fishburne as Alex Haley) in blink-and-you'll-miss-them roles.
As an aside, a preponderance of the major white roles are played by British actors, including James Purefoy, Matthew Goode and Rhys Meyers, adopting Southern accents with varying degrees of success.
Those old enough to remember will likely miss elements of the original, like its memorable score. History will air "Roots" over successive nights, just as ABC did -- not because executives thought they had a huge hit on their hands, but to mitigate the damage if it flopped.
A lot has happened -- to media and society -- since 1977. More recent explorations of the period include the Oscar-winning movie "12 Years a Slave," WGN America series "Underground" and Sundance Film Festival sensation "The Birth of a Nation," which Fox Searchlight will release this fall.
Given all that, this new "Roots" can't possibly have the same cultural impact. Those who tune in, though, will find Haley's family history has sacrificed little in terms of its emotional heft.
"Roots" premieres May 30 on History channel.