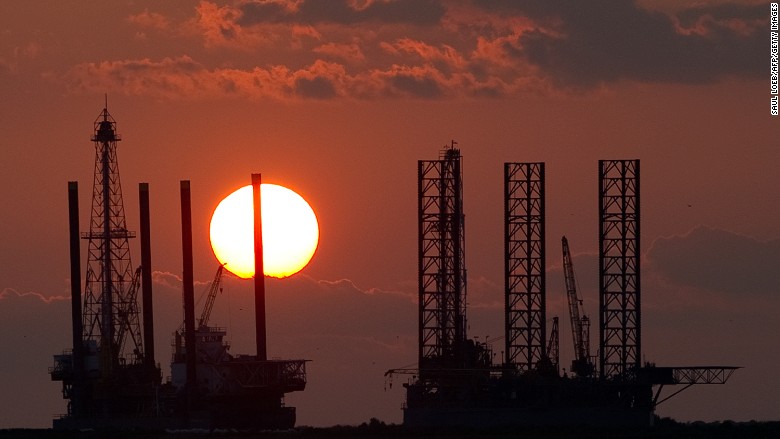 Things are so bad in the oil industry that one drilling services company is planning its second bankruptcy filing in nine months.
Hercules Offshore (HERO) filed for Chapter 11 bankruptcy last August as the crash in oil prices began to send financial stress rippling through the oil and gas world.
The oil services company emerged from bankruptcy seemingly a healthier entity in November after shedding $1.2 billion of debt. But then a second wave of turmoil hit the oil industry as crude plunged to 13-year lows in February.
That's why Hercules Offshore announced on Friday it plans to once again file for Chapter 11 in an effort to sell off assets. Shares of the Houston company plunged 39% on the news.
Hercules said it will file motions with the court to allow the company to continue paying suppliers and maintain employee wages and benefits.
Once it becomes official, Hercules would be the first oil company during the current downturn to become a so-called "Chapter 22" by going bankrupt twice, bankruptcy lawyers said.
"I imagine as oil prices remain low, this is probably the beginning of a wave," said Ted Gavin, founding partner of Gavin/Solmonese.
Related: Donald Trump's energy plan: Regulate less, drill more
Hercules said that since it emerged from bankruptcy in November, the renewed decline in oil prices and consolidation of its U.S. customers hurt demand for the company's services, which include operating boats and rigs to help oil and gas companies.
"You can strip off debt, but that doesn't suddenly make you cash flow positive -- particularly when oil prices are low," Gavin said.
It's a sign of the financial chaos rocking the oil industry these days, even as oil prices have rebounded off their February low of $26 a barrel to $50 this week.
Over 60 North American oilfield services companies including Hercules have gone bankrupt since the start of 2015, according to law firm Haynes and Boone. That's on top of more than 77 oil and gas producers that have also gone bust.
This time, instead of simply restructuring debt, Hercules is planning to use the bankruptcy process to sell off assets. The company's international assets aren't going to be part of the bankruptcy filing, but will be included in the sale.
Hercules already reached a $196 million deal to sell a jack-up rig that operates in harsh environments to Maersk Highlander.