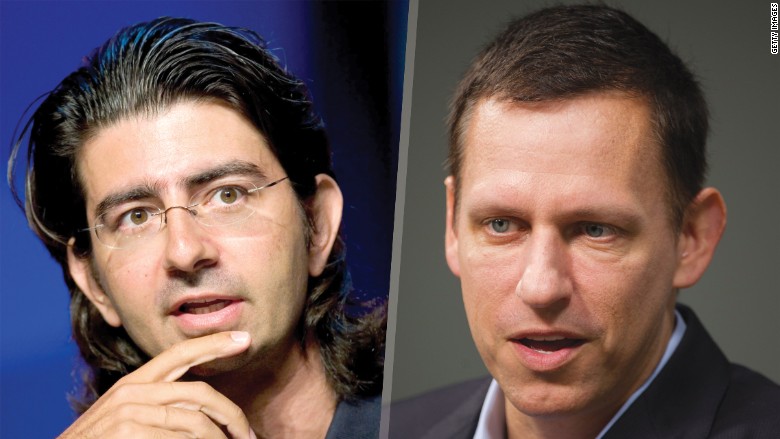 Gawker learned this week that billionaire Peter Thiel is funding legal cases against it, but now Gawker has a billionaire in its corner too.
EBay cofounder Pierre Omidyar's media firm First Look Media is rallying other media outlets in an amicus effort.
The news comes after Thiel, a Silicon Valley investor and entrepreneur, admitted he was bankrolling the Hulk Hogan lawsuit against Gawker Media, pouring an estimated $10 million into bringing the case to court.
The verdict ruled that Gawker owes Hogan's $140 million in damages. The Hogan verdict requires Gawker to post a $50 million bond while it appeals. Thiel said he is funding at least one other case against Gawker.
The verdict, if upheld on appeal, and the cost of fighting the lawsuits is a threat to Gawker's existence.
Related: Gawker's plan B: Bankers ready to arrange a sale
"The possibility that Gawker may have to post a bond for $50 million or more just to be able to pursue its right to appeal the jury's verdict raises serious concerns about press freedom," wrote Lynn Oberlander, general counsel at First Look Media in a statement sent to CNNMoney. " To be clear, this is about press freedom principles upon which our company was founded, and about which we care deeply."
Omidyar's amicus support for Gawker was first reported by the New York Post,
Related: Gawker owner seeks a truce and a debate with Peter Thiel
First Look Media -- which is dedicated to protecting the First Amendment -- started a Press Freedom Litigation Fund in July 2014 to support journalists with financial grants to fight legal battles that concern public interest. Grants have been given to the likes of Chelsea Manning, for example.
It's not clear if Gawker would be eligible for one of its grants.
This isn't First Look Media's first involvement with the Gawker case. It joined with the Press Freedom Litigation Fund and major news outlets in June to successfully argue to unseal documents that Gawker will use in its appeal.
Omidyar, whose eBay bought Thiel's PayPal in 2002 for $1.4 billion, said there was no animosity with Thiel, who is a Donald Trump delegate at the upcoming Republican convention.
Omidyar tweeted on Friday, "I've never met Peter, respect his work as vc, and obv disagree on Trump and press. There is no "bad blood.""