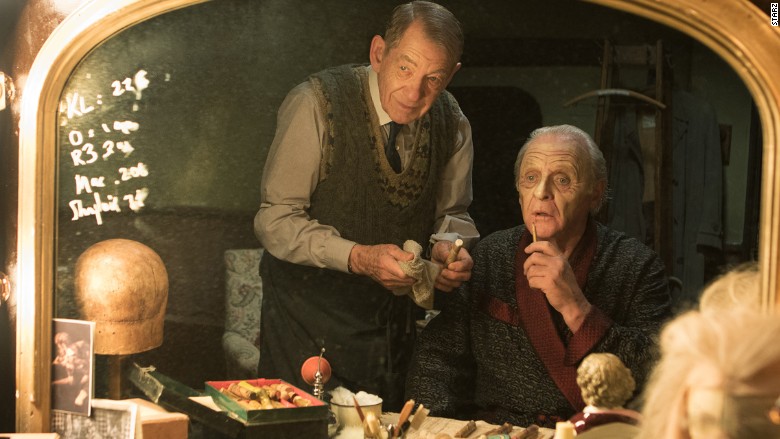 While the major networks continue to chase youth, premium TV services are showing signs of recognizing that gray could be the new green.
Broadcasters' programming choices reflect the priorities of their advertisers, who predicate media buys on reaching adults younger than 55. Pay channels, however, are responding to that narrowed focus with projects that cater to an older audience, featuring actors who have long been eligible for their AARP cards.
On May 30, Starz will premiere "The Dresser," an adaptation of Ronald Harwood's play about an actor and his dresser in wartime England. The movie (which already played in the U.K.) stars septuagenarians Anthony Hopkins and Ian McKellen. The same network is readying a second season of "Blunt Talk," a comedy series whose star, Patrick Stewart, is also part of the mid-70s demographic.
"I think it's a perfect opportunity for premium, because no one's doing it," said Starz CEO Chris Albrecht. "There's an audience for it, that's underserved, with money. That's everything we talk about."
Related: Weighed down by characters, 'X-Men: Apocalypse' doesn't take off
Starz isn't alone. Netflix is streaming the second season of "Grace and Frankie," which reunites Jane Fonda and Lily Tomlin as two women whose husbands leave them for each other. Jeffrey Tambor, 71, won an Emmy for "Transparent," an Amazon ensemble series in which he plays a transgender woman.
A common thread among all these channels is that they don't rely on advertising. Similarly, PBS has explored similar terrain, with the series "Last Tango in Halifax" and "Vicious," both starring Derek Jacobi (the latter opposite McKellen).
Yet notably, even some of the basic cable networks, which do sell ads in addition to reaping subscriber fees, have joined in this tier.
FX, for example, recently announced plans for "Feud," a limited series about the making of the movie "Whatever Happened to Baby Jane?" The project will star Jessica Lange and Susan Sarandon, both in their late 60s, as Joan Crawford and Bette Davis, respectively.
Related: 'Roots' vividly revived for a new generation on History channel
The shows cited still amount to a blip amid an onslaught of original TV production, the vast majority of it aimed at, and starring, a younger cohort.
Still, pay channels -- which count on appealing to various constituencies with different programs -- do seem more receptive to building shows around senior citizens, whose money, after all, is just as good as their children's and grandchildren's money.
Starz's Albrecht also noted that actors like Stewart and McKellen have high profiles across various demographics, thanks in part to their association with franchises like "Star Trek," "X-Men" and "The Lord of the Rings." Similarly, Hopkins plays Odin in the "Thor" movies.
Younger viewers, he said, "aren't thinking those are old guys. They're thinking that they're part of stuff that I really like."
Related: 'The Americans' renewed through sixth and final season at FX
For the most part, the major networks haven't caught up with the trend, though there are a few signs. This summer, for example, NBC will introduce "Better Late Than Never," a reality/travel show (based on a South Korean series) that features four older celebrities -- William Shatner, Henry Winkler, George Foreman and Terry Bradshaw -- taking a trip together to Asia.
Whether or not the show succeeds, based on the way TV frequently treats older talent, the title certainly seems appropriate.