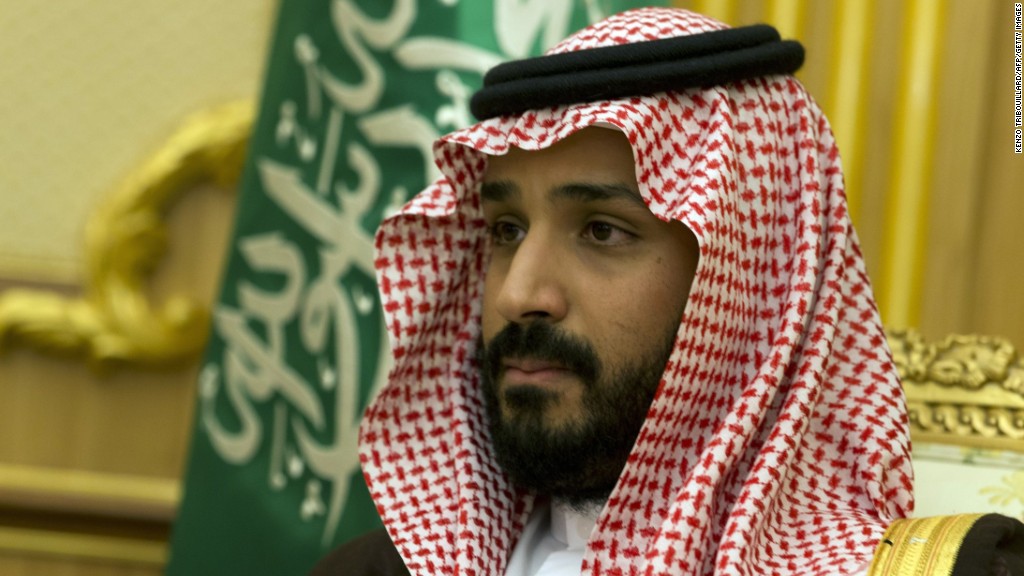 Saudi Arabia is planning to hit up the international bond markets for cash for the first time ever as the kingdom grapples with plunging oil revenue.
That's according to John Sfakianakis, a former official in Saudi Arabia's Ministry of Finance who said the sale would likely take place over the next several months.
A person familiar with the matter told CNNMoney Saudi Arabia is planning to raise as much as $15 billion in the bond sale. Neither the Saudi Ministry of Finance nor the Saudi embassy in Washington responded to requests for comment. Bloomberg News first reported the $15 billion figure.
The idea that Saudi Arabia is considering a bond sale is symbolic of the kingdom's shifting fortunes. Just five years ago it was unthinkable that Saudi Arabia, with its vast oil riches, would need to borrow money. But the crash in oil prices has turned the kingdom's massive budget surplus into a gaping hole.
Saudi Arabia, which relies on oil for three-quarters of its revenue, suffered a 2015 budget deficit of nearly $100 billion as oil revenue fell by 23%.
While Saudi Arabia is still sitting on nearly $600 billion in foreign-exchange reserves, the country has burned through $140 billion in reserves since the end of 2014. And the IMF warned the Saudis could eventually run out of cash.
"There is a need to cover the fiscal gap," said Sfakianakis, who is currently director of economic research at the Gulf Research Center in Riyadh, Saudi Arabia. "It's better for this money to come from other sources than reserve assets because as they get depleted that places a bigger risk over the medium to long-term."
Related: How much more oil can the Saudis really pump?
Sfakianakis believes Saudi Arabia easily be able to raise $15 billion given that earlier this month Qatar -- an OPEC country just a third the size of Saudi Arabia -- raised $9 billion through a bond sale.
Qatar's bond sale was "heavily oversubscribed," but needed to offer slightly higher rates than similarly-rated offerings, according to Capital Economics.
The recent rebound in oil prices should also help Saudi Arabia. After crashing to $26 a barrel in mid-February, crude has nearly doubled in price and last week briefly rose above $50 for the first time in seven months.
Others believe the bond markets will be more skeptical given Saudi Arabia's recent struggles. "Let me give my check book and feed it to the dog," Michael Block, chief strategist at Rhino Trading Partners, joked in a note.
Earlier this month, hedge fund Zach Schreiber, who correctly predicted the oil crash, warned of a looming financial disaster in Saudi Arabia.
"Saudi has two to three years of runway before it hits a wall," Schreiber said at the 21st Annual Sohn Investment Conference.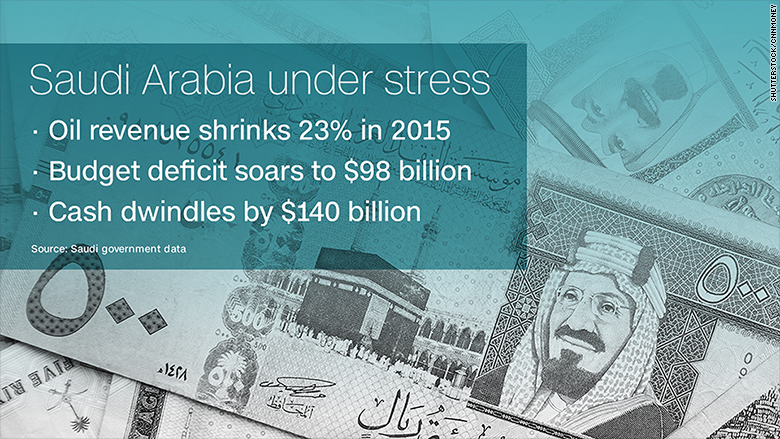 Related: Revealed: Saudi Arabia owns $117 billion of U.S. debt
There's no doubt the Saudis have been scrambling to combat the financial pressure.
Late last year Saudi Arabia announced plans to cut spending by 14% in 2016. That includes cutting critical defense spending and removing some of the lavish perks Saudi citizens had come to expect. For instance, in January Saudi Arabia removed a gas subsidy that caused gas prices to soar by 50%.
Moody's recently warned of the social impact of policy reforms in Saudi Arabia and other Gulf countries where "governments are under pressure to continue redistributing oil revenues to their populations to avoid economic-related civil unrest."
Saudi Arabia is also pulling out all the stops to raise cash, including by taking out a $10 billion loan in April from a group of banks, its first loan in 25 years.
Saudi Arabia is even willing to sell off a piece of Saudi Aramco, the crown jewel of the kingdom's oil industry. State-owned Aramco produces an incredible 12% of the world's oil.
Last year, the Saudis tapped the local bond market for the first time in eight years, raising at least $4 billion. But Sfakianakis said this would be the first time Saudi Arabia has issued international bonds.