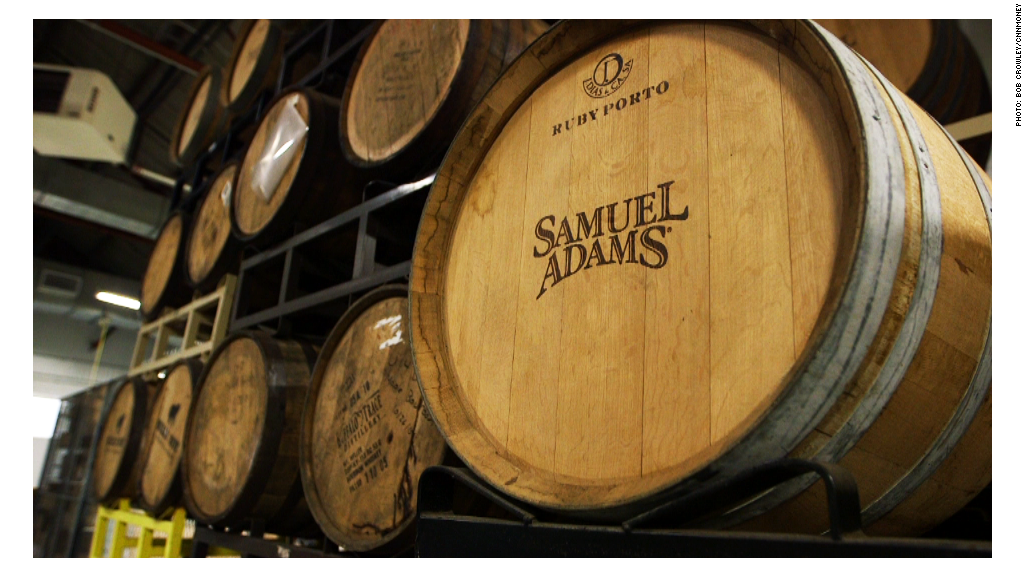 Don't like Bud or Coors Light? You will soon be able to easily make your own suds at home.
SodaStream, the company that helped launch the do-it-yourself carbonated beverage craze, announced late Monday that it has released a new Beer Bar system in Germany and Switzerland.
The company said it will launch in more markets later this year and in 2017.
Shares of SodaStream (SODA) popped (sorry) nearly 5% on the news on Tuesday morning. The stock is now up more than 25% this year.
So far, SodaStream has just one beer for sale -- the Blondie. It's described as a light beer with "a smooth authentic taste, and a hop filled aroma." The Blondie has 4.5% alcohol by volume. That's a little higher than Bud Light and Miller Lite.
Related: Alcohol sales fall for first time in nearly 20 years
The machine works similarly to its namesake SodaStream sparkling water makers. Consumers add a concentrated beer mix to sparkling water to brew the drink.
"We are excited to launch a brand dedicated to serving the global growing trend of home crafted beer," said SodaStream CEO Daniel Birnbaum in a statement.
SodaStream needs a new hit. Even though the stock has surged this year, shares are still nearly 75% below the peak price they hit during the summer of 2013.
There are concerns that the sparkling water and cola maker product is a fad whose popularity has peaked. SodaStream's sales have been declining for the past two years -- although the company did recently report a 10% increase in its most recent quarter.
The Israel-based SodaStream also came under fire a few years ago for having a factory in the West Bank -- a territory that is at the center of the long dispute between Israel and Palestine.
The controversy escalated after Scarlett Johansson appeared in a Super Bowl ad for SodaStream in 2014. Johansson was an ambassador for Oxfam at the time, a charitable organization that has been critical of Israel due to its West Bank settlements.
SodaStream has since moved the factory and Johansson has since ended her role with Oxfam.
SodaStream also faces new competition from Keurig Green Mountain. The K-Cup coffee maker now sells a Keurig Kold machine that features products from Coke (KO) and Dr Pepper Snapple (DPS).
SodaStream has partnered with Pepsi (PEP) -- but it also has its own products that clearly mimic the other soda kings, such as a fountain style soft drink simply dubbed Cola in familiar red packaging and another drink called Dr. Pete.
Related: There's a bull market for beer stocks
So can the new beer maker help boost sales and profits? It remains to be seen whether or not people will simply want to make their own beer that tastes like the mass market big brands.
The home brewing craze is largely a backlash to Big Beer -- with people making their own IPAs, saisons, porters and other types of fancier beers and ales.
Still, SodaStream may benefit by not having Big Beer partners ... particularly as that industry is set to consolidate further with Anheuser-Busch InBev's (BUD) pending purchase of SABMiller (SBMRF).
If SodaStream can position itself as an affordable and easier way to make your own microbrews, then maybe the company will wind up tapping (sorry again) into a lucrative new revenue stream.