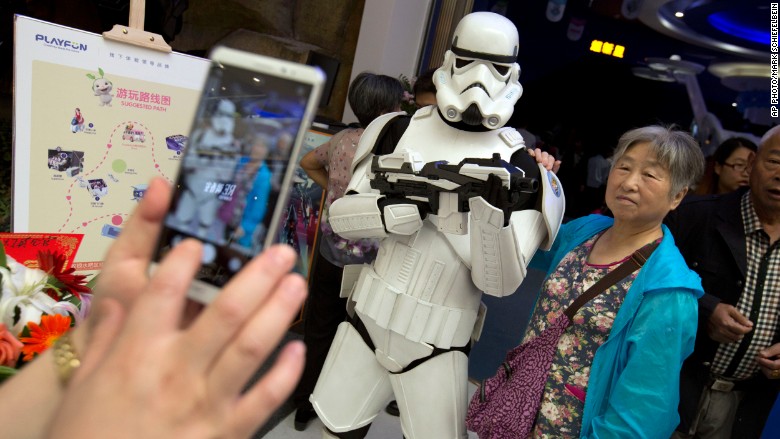 The Chinese tycoon who recently took a swipe at Disney has found himself with some explaining to do.
Wang Jianlin, the billionaire chairman of real estate and entertainment conglomerate Dalian Wanda Group, publicly slammed Disney (DIS) last week over its giant new Shanghai resort that's due to open next month. He questioned the U.S. company's financial prospects in China and suggested it was "cloning" its existing intellectual property rather than innovating.
Fast forward to the opening this past weekend of Wang's company's massive new entertainment complex in Nanchang, a city roughly 350 miles southwest of Shanghai. Among the cast of costumed characters spotted at the complex were some distinctly Disney-looking ones: Snow White, Captain America and a stormtrooper from Star Wars.
Wanda and Disney are both competing for Chinese consumers' increased spending on leisure and entertainment. But the two companies also cooperate in some areas.
Related: Billionaire vows to crush Disney in China
"We have a good relationship with Wanda, particularly in the film distribution business, including in the United States," a Disney spokeswoman said. "We are perplexed that Mr. Wang would choose to do public battle with us, or attempt to undermine our business in any way."
The people apparently dressed as Disney characters were seen in non-ticketed areas of the Wanda complex, according to The Associated Press and Bloomberg.
"The non-Wanda characters were operated by individual stores within Wanda Mall. They do not represent Wanda," the Chinese company said.
Related: Disney's massive new Shanghai resort prepares to open
The Chinese company's giant complex, dubbed Wanda City, also features an outdoor amusement park, an indoor theme park and hotels.
Disney's new mega theme park in Shanghai, which dwarfs the company's other Asian parks in Hong Kong and Tokyo, is set to open June 16. It includes two hotels, a shopping district and six themed lands.
Wanda, meanwhile, is planning to open 15 Wanda City projects in China by 2020. "One tiger cannot compete with a pack of wolves," Wang said in his comments about Disney last week.
--With reporting by Sophia Yan