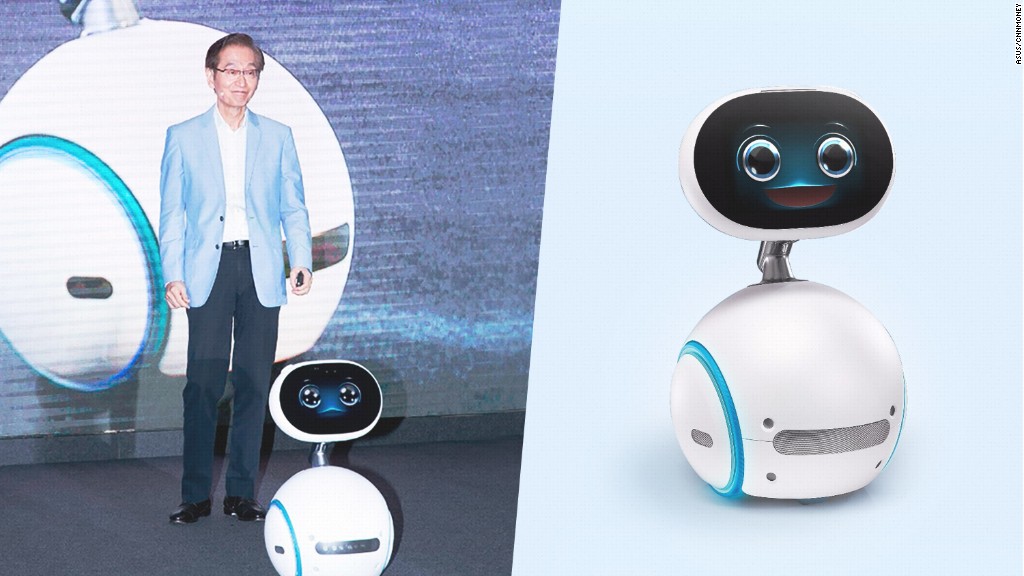 There will be more than 2 billion people over the age of 60 in 2050 -- more than double the number today, according to a recent Bank of America Merrill Lynch Research study. And as the average life expectancy continues to climb, elder care will become a bigger global issue.
The resulting social and economic problems are already being felt in Asia, which is why companies like ASUS are anxious to position home robots as a potential solution.
The Taiwanese company showed off its vision for that future on Monday with Zenbo, a robot that looks like an elliptical tablet on wheels. It can do things like make video calls, surf the web, read books to kids, and play videos and music.
"Zenbo is designed for everyone, but he has specific functionality that helps senior family members safeguard their health and well-being as well as enjoy a connected digital life," a company statement read.
When an elderly person falls, for example, Zenbo can send family members an emergency message and a video of what's happening. The child-sized bot also acts a lot like existing smart assistants and reminds its owners to take medication or get ready for a doctor's appointment.
In a video ad, Asus also promotes Zenbo's ability to keep children entertained by listening to speech commands and responding.
Related: This startup wants to start a league for giant combat robots
Home assistant robots have been promised for decades. But for now, they're little more than always-on smartphones that can move around. Zenbo is just the latest example.
Variations of these bots are already being used by elder community centers in Singapore. And the service industry has caught on to the idea with robots like Relay and Connie -- room service and concierge assistants.
But for them to become truly helpful, robots will need to interact with their surroundings much like humans do, at the very least.
That's why firms like Alphabet (GOOGL)-owned Boston Dynamics focus so much of their engineering on making robotic bodies that can walk up stairs and lift boxes.
Related: The superhuman robot hand that learns from its mistakes
The Asus Zenbo is not on sale to the public yet. The company is currently looking for developers to help build software programs for the machine.
The company did not immediately respond to a request for details about the dimensions, availability and pricing. Multiple reports state Zenbo will cost $600.