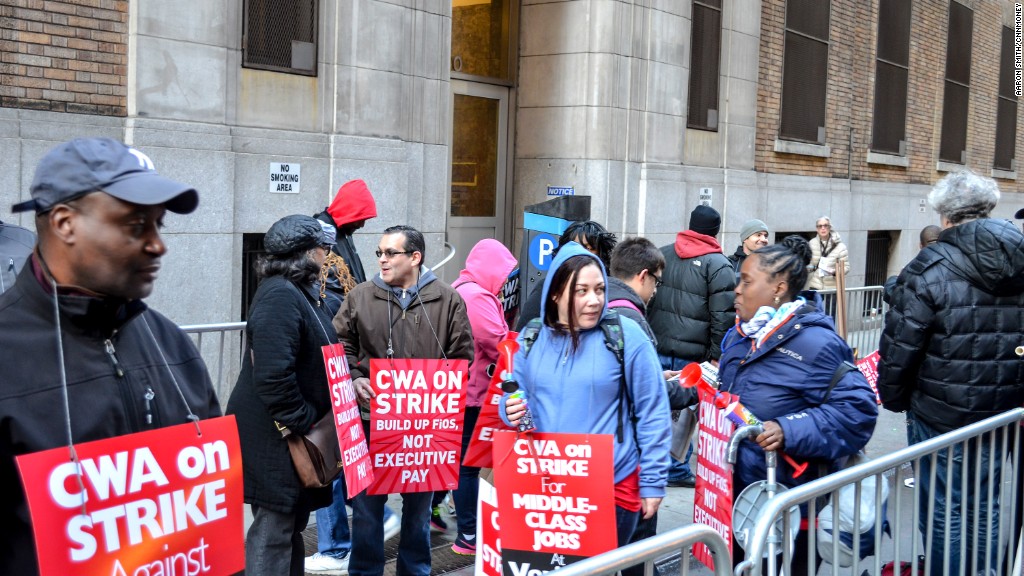 Verizon's striking workers may have taken a toll on the U.S. economy.
About 36,000 Verizon employees went on strike for 6 weeks demanding better pay, working conditions and jobs kept in the United States. The conflict ended last Friday after several days of negotiations and the intervention of U.S. Labor Secretary Tom Perez.
Economists believe the strike will affect the widely-watched U.S. monthly jobs report that will be released Friday morning.
The "strike likely depressed the May jobs data," Bank of America (BAC) global economist Ethan Harris wrote in a research note.
Harris and his team are expecting that the economy added 160,000 jobs in May, in line with expectations from a consensus of economists surveyed by FactSet, a financial data firm.
Related: Verizon reaches deal with 36,000 workers
But others are even more bearish. Wells Fargo (WFC)'s Sam Bullard forecasts the U.S. only adding 125,000 jobs in May. Capital Economics, a research firm, is calling for a mere 120,000 new jobs.
Generally, the economy is considered healthy if 200,000 jobs are added each month.
"Employment growth is going to be lower than it would be otherwise," Bullard says. "We think [the strike is] going to weigh on the headline number."
Bullard points out that this isn't the first time that Verizon strikers have impacted the U.S. economy. Verizon employees went on strike in August 2011, when the economy added only 107,000 jobs.
Related: Janet Yellen says rate hike 'appropriate' soon
The good news is that strikes tend to have a whiplash effect: losses from one month are made up in the next. In September 2011 -- the month after the Verizon strike -- the economy added a robust 246,000 jobs. It happened earlier in August 2000 when Verizon employees went on strike. The economy actually lost jobs in August 2000, only to rebound in September.
The May jobs report is important because Federal Reserve officials are expected to discuss raising the key U.S. interest rate in June. However, Fed officials, led by Chair Janet Yellen, emphasize that they need to see good economic data before raising rates again. They last raised interest rates in December -- the first rate hike in nearly a decade.
The Fed could see past the Verizon strike as a one-time hit to the jobs data. But experts say a low jobs number on Friday might hold Fed officials back from a June rate hike, something they've hinted about in recent weeks.
"Even putting the temporary distortions aside, employment growth could be weak enough to leave the Fed's decision next month on a knife edge," says Paul Ashworth, chief U.S. economist at Capital Economics.