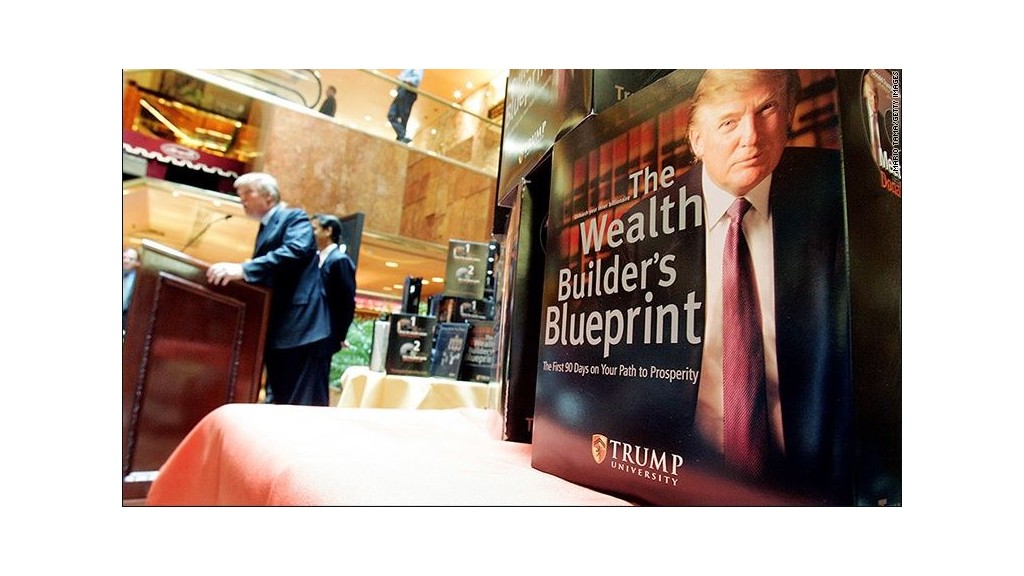 An Iraq war veteran claims she was fired by Trump University because she needed two days a month off in order to serve in the Army Reserve.
Corrine Sommers, who worked for Trump University for five months, sued Trump University after she was dismissed in October 2007. She reached a confidential settlement in that case. But she later alleged that she was fired because of her military service in a November 2012 deposition she gave in a federal class action suit that accused the school of fraud. That deposition was unsealed this week.
Sommers alleged that a supervisor at the school "complained when I would have to take days off to do my military service." And she said that as part of a poor performance review she received, "they wrote it was an issue that I was in the military." She needed to serve two days a month while she worked at Trump University, she testified. She said she was fired when returning from a vacation that she had refused to cut short to respond to a call asking her to come into work.
The Trump Organization does not comment on the reason for employees dismissal said spokeswoman Jill Martin. But she pointed to Sommers' own testimony about a poor performance review, her vacation, which Martin described as "unauthorized," and her refusal to return to work. She said Sommers' claim that she was fired due to her military service is "completely meritless."
Related: Ex-employees on Trump University: 'A fraudulent scheme' and 'a total lie'
Sommers also said she was also referred to by supervisors as a "weekend warrior," which she testified she believed was a criticism.
"It's a derogatory term when it comes from someone else, especially when I'm an Iraqi veteran," she testified.
Employers are prohibited by federal law from discriminating against members of the military reserves for the time they spend in the service.
Trump has made his support for members of the military a centerpiece of his campaign. He has also criticized the various lawsuits against Trump University, saying he is refusing to settle them because he is confident he will eventually win the case.
"I could have settled this case many times, but I don't want to settle cases when we are right. I don't believe in it," Trump told a rally Friday when talking about the lawsuit.
Related: Trump University controversy...in two minutes
The decision to settle the case brought by Sommers was not an acknowledgment that her claims are legitimate, Martin said.
"In some situations, settling lawsuits makes financial sense," she said. "Mr. Trump has a proven track record of fighting lawsuits to the end, and this matter settled by Trump University in no way changes his long-held position that he will not be extorted by frivolous lawsuits."
The Trump Organization oversees' most of Donald Trump's business interests, including Trump University, which ceased operations in 2011.