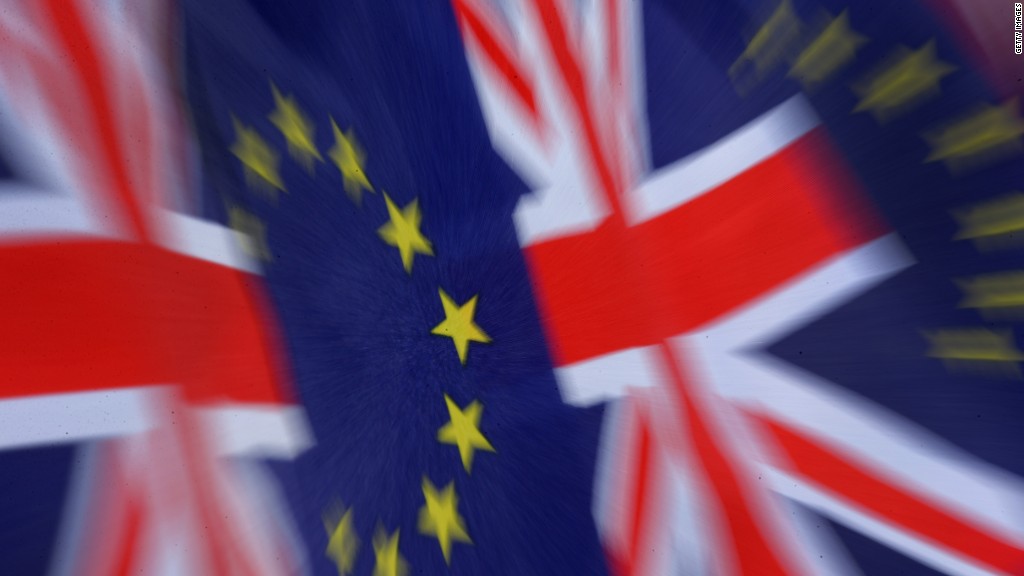 Britons got their first full glimpse of the new, highly anticipated "fiver" on Thursday.
For plain old cash, the new five pound note is pretty snazzy. It's made of a flexible polymer material that resists dirt and lasts longer than paper. It also has some robust security features that are only possible with plastic money.
And it features a portrait of former Prime Minister Winston Churchill.
Bank of England Governor Mark Carney introduced the new note at Blenheim Palace, which belonged to the Churchill family for more than 300 years.
Carney said that Churchill was an obvious choice. He became prime minister in 1940, shortly after the outbreak of World War II when defeat by Nazi Germany seemed likely.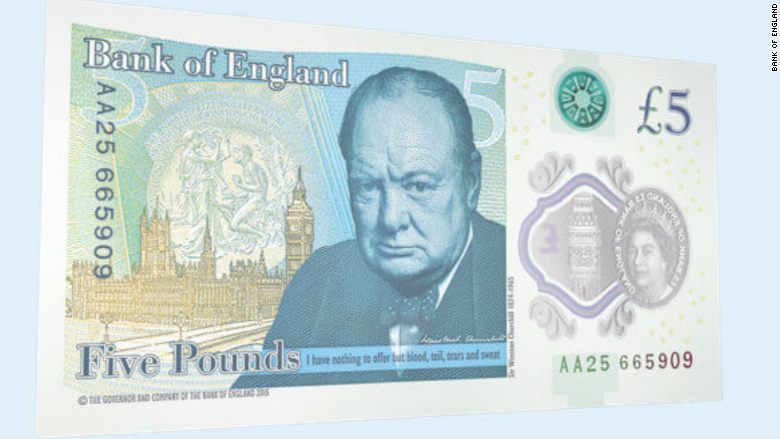 His stirring speeches were a source of national inspiration during the dark years that followed, and the new banknote will celebrate one of his most famous lines, made in a speech to parliament on the day he became prime minister: "I have nothing to offer but blood, toil, tears and sweat."
Churchill replaces Elizabeth Fry, a prison reformer.
Since the new note can last longer in circulation, it will allow the Bank of England to print fewer new bills.
They will also be harder to counterfeit. The Elizabeth Tower featured on the bill's front and back will be made of foil -- gold on the front and silver on the back.
It has a see-through window with a border that changes from purple to green when you move the bill around. The crown on the front appears 3-D, and the note even displays a message under a black light.
Britain joins Australia, New Zealand, and Canada, in issuing plastic bills. The U.S., so far, has not.
"As Churchill did, we may have to wait a while for the Americans to join up," Carney quipped.
The Bank of England first announced plans for a new "fiver" in April 2013, but it offered just a small peak at the new bill's design. It introduced a new website Thursday, putting the bill on display for the world.
The currency will enter circulation on September 13, though it will take a few weeks for the notes to spread across the country's shops, businesses and banks.
In May 2017, Britain will no longer accept paper five pound notes as legal tender. They'll no longer be accepted at shops and banks.
The Bank of England will introduce a new polymer 10 pound note in 2017, featuring novelist Jane Austen. And in 2020, a new 20 pound bill (also made of plastic) will enter circulation, and it will feature painter J.M.W. Turner.
-- Mark Thompson contributed to this report