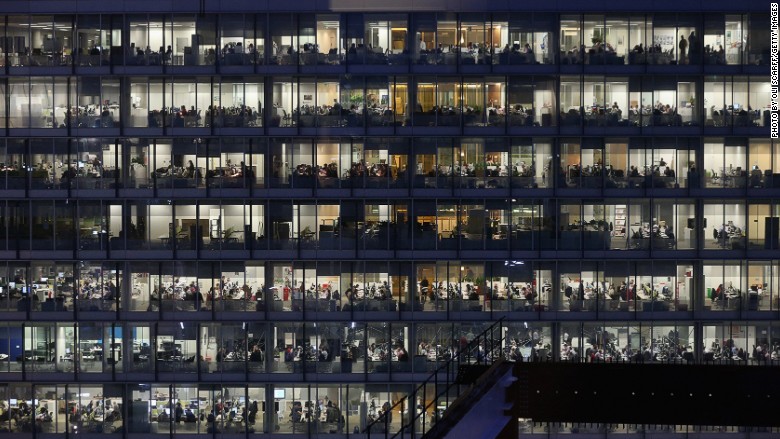 Good news Credit Suisse investment bankers: Friday nights -- after 7 p.m. at least -- are now yours. Except...be ready to return to the office by lunchtime on Saturday.
Credit Suisse (CS) launched the new policy -- dubbed "Protected Friday Nights" -- last month in an effort to ease the workaholic image typically associated with banks. It applies to investment banking and capital markets bankers in Europe, the Middle East and Africa, excluding the company's home market of Switzerland.
Bankers are "expected" to be out of the office by 7 p.m. on a Friday evening until at least midday on Saturday, Credit Suisse told CNNMoney. The new policy was previously reported by Reuters.
Exceptions to the rule include if a deal is due to be launched or near its close or if there is an "urgent client request." Unfortunately for people in the time-sensitive investment banking division, that can often be the case.
Credit Suisse launched a more relaxed policy in 2014 for its U.S. investment bankers. That policy called for analysts and associates to leave the office from 6pm on Friday through 10 am on Sunday, unless they were working on a live deal.
The Credit Suisse weekend policies highlight recent efforts by big banks to improve employees' work-life balance. It's an area that has received new focus in light of competition to attract and retain talent from exciting Silicon Valley and companies like Google (GOOGL) and Facebook (FB) that offer lavish perks.
Related: Jamie Dimon: 'We are not losing talent to Silicon Valley'
Just look at where top business school students are only choosing to go -- 14% of Wharton School of Business graduates in 2014 went into finance, down from 21% in 2010. At the same time, 14% of graduates went into tech, up from just 6% five years earlier.
A 2015 survey a New York executive search firm found that an alarming 50% of financial professionals were unhappy with their jobs.
Responding to this climate, last month UBS (UBS) started a new initiative called "take two" that affords investment banking employees around the world with two hours of "personal time." The idea came from an employee survey. Of course, employees who do decide to take two will have to check in with their team and also find someone to cover for them.
"Our industry is often criticized for poor work-life balance, so we asked our employees to come up with ideas and find solutions to the issues that matter to them," said Andrea Orcel, president of the UBS investment banking division.
A UBS spokesperson told CNNMoney the bank is not currently working on a Friday nights off plan like Credit Suisse launched.
Earlier this year, JPMorgan Chase (JPM) notified its global investment banking staff to take weekends off unless they had a live deal in the works.
In an interview with CNNMoney's Poppy Harlow, JPMorgan CEO Jamie Dimon downplayed concerns about Wall Street losing the "talent war" with Silicon Valley.
"We are not losing talent. We are a chock-full of talent. We can hire most people we want," Dimon said.