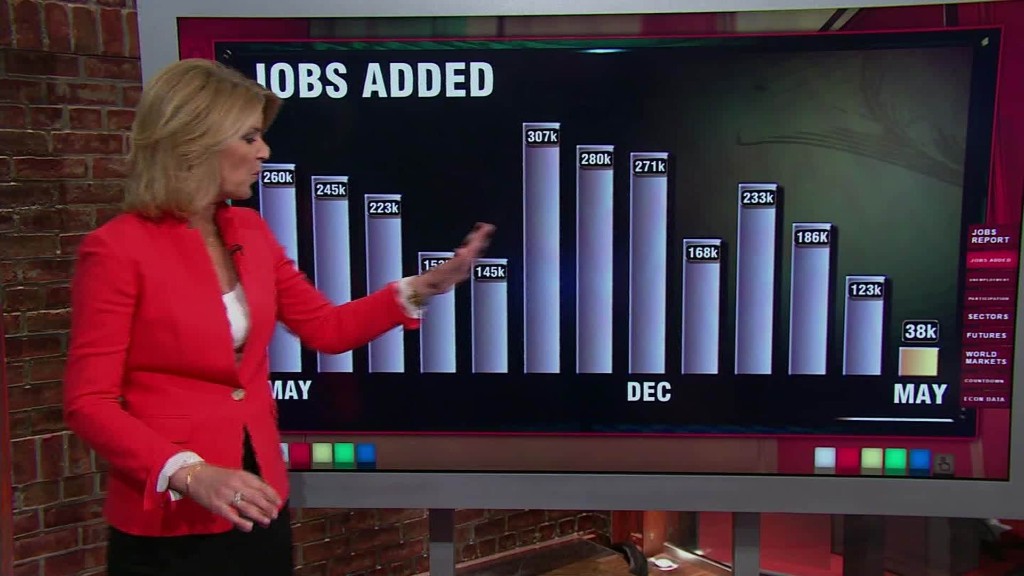 Stocks took a bit of a tumble Friday following the jobs report -- which showed disappointing growth for the month of May.
But despite Friday's market slide, the Dow and S&P 500 continue to cling to slight gains for the year.
So are investors too bullish? To quote Robert Plant, it makes me wonder.
CNNMoney's Fear & Greed Index, which measures seven indicators of market sentiment, is still showing signs of Extreme Greed.
One of the components of our index, the volatility measure known as the VIX (VIX), is down more than 20% this year. Many traders dub the VIX Wall Street's fear gauge. So the big pullback in the VIX seems to be another sign of investor complacency.
How long can this last though? The broader market reaction on Friday suggests investors are spooked by the jobs numbers.
Going back to Led Zeppelin, the lady who's sure all that glitters is gold is probably pretty happy right now.
Gold, which tends to rally during times of stock market turmoil, surged 2.5% Friday. Gold prices are up more than 17% this year. That may not be a great sign for the economy.
Related: Job creation weak, even as unemployment rate falls
Investors were scooping up bonds too. The yield on the 10-Year U.S. Treasury slipped to about 1.7% -- its lowest level in several weeks. Bond rates fall as prices rise.
So Friday's pullback in yields could be an indication investors are no longer convinced the Federal Reserve will raise short-term rates anytime soon.
Rates are still substantially lower than where they began the year. The bond market just doesn't seem convinced that the economy is all that healthy.
And the VIX, while still relatively low, did shoot up Friday as well.
Now this weak jobs report could turn out to be a blip. The Verizon (VZ) workers strike -- which recently ended -- had some impact on the numbers.
But even if Verizon employees weren't on the picket lines, the number of jobs added last month would still have been below 100,000. That's not good.
Related: Economic model predicts Clinton will beat Trump
What about the unemployment rate dipping to 4.7% though? That's something to cheer, right? Not necessarily.
The drop in unemployment is mostly a function of frustrated Americans giving up their search for a job and dropping out of the workforce. The labor force participation rate also fell last month.
Sure, the job market could heat up later this summer. After all, there are some parts of the economy that are humming along quite nicely.
Personal spending surged in April to its highest level in almost seven years. That could be a sign that retail sales will pick up in the second quarter after many publicly traded retailers reported lousy results for the first quarter.
The housing market also continues to hum along, which has been good news for builders as well as Home Depot and Lowe's.
But the May jobs numbers have economists at Barclays worried. They even dropped the R word. Hint. It's not recovery or rebound.
"Trend slowing in hiring points to increased risk of recession" was the subtitle of the Barclays report.
Hopefully the U.S. will be able to avoid another recession, especially one as painful as the one in 2008. But with concerns about the economy mounting, it's hard to imagine how stocks will get back to all-time highs in the near future.