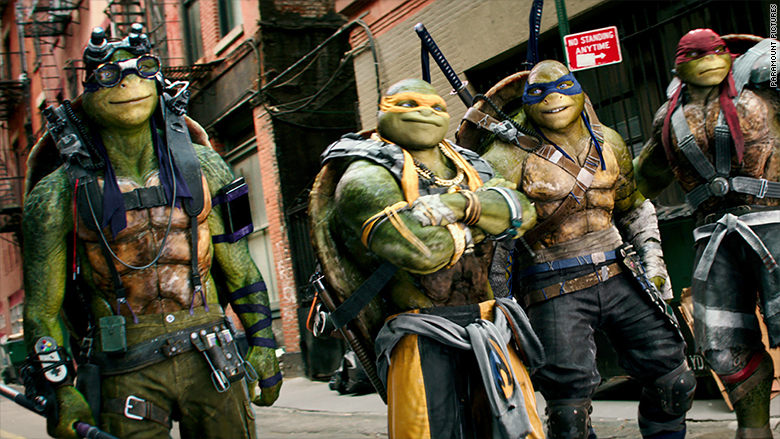 For the second weekend in a row, mutant superheroes are tasked with saving the summer box office.
"Teenage Mutant Ninja Turtles: Out of the Shadows" hits 4,000 theaters this weekend and is projected to bring in roughly $40 million at the North American box office, according to analysts.
The sequel to the 2014 hit is not only a big film for Viacom (VIA)'s Paramount Pictures, but for the early summer movie season.
The summer box office is currently down 4.1% from the same point in the season last year.
"Ninja Turtles" is hitting theaters after a soft Memorial Day weekend that had "X-Men: Apocalypse" debut with a fairly ordinary performance and "Alice Through The Looking Glass" flop big time.
The original film starring the mutant turtles who love pizza and protect New York from the evil Shredder was one of the biggest surprises of the lackluster 2014 summer movie season.
The film opened to $65 million in August 2014 before going on to make nearly $500 million worldwide.
It was also a big hit internationally with 61.2% of its worldwide totals coming from overseas.
But with a 36% score on review site Rotten Tomatoes, the turtles may have to fight to bring in a big audience.
So the Ninja Turtles like the X-Men before them may be under pressure to get the summer on track.
"The perception of the strength of the summer movie season is riding heavily on the hard-shelled backs of the Ninja Turtles this weekend," said Paul Dergarabedian, senior media analyst at comScore (SCOR). "A series of recent under-performers and tough comparisons to last year have the industry as a whole questioning the drawing power of this year's collection of summer films."
Even if the turtles are not the heroes in a half shell that the box office needs, big films like Pixar's "Finding Dory" and "Independence Day: Resurgence" -- two more sequels -- are also on the June schedule.
Related: 'X-Men' takes top spot as 'Alice' flops at Memorial Day box office
And if the June swoon is still in effect after that, July has a healthy slate of films like the "Ghostbusters" reboot and "Star Trek Beyond" that may warm the summer box office.
"If history has taught us anything, it's that the fortunes of summer can rise and fall seemingly in an instant," Dergarabedian added. "As quickly as everyone trashes the performance of the season, a series of solid performers and unexpected delights can suddenly turn all that talk of malaise into praise and accolades."