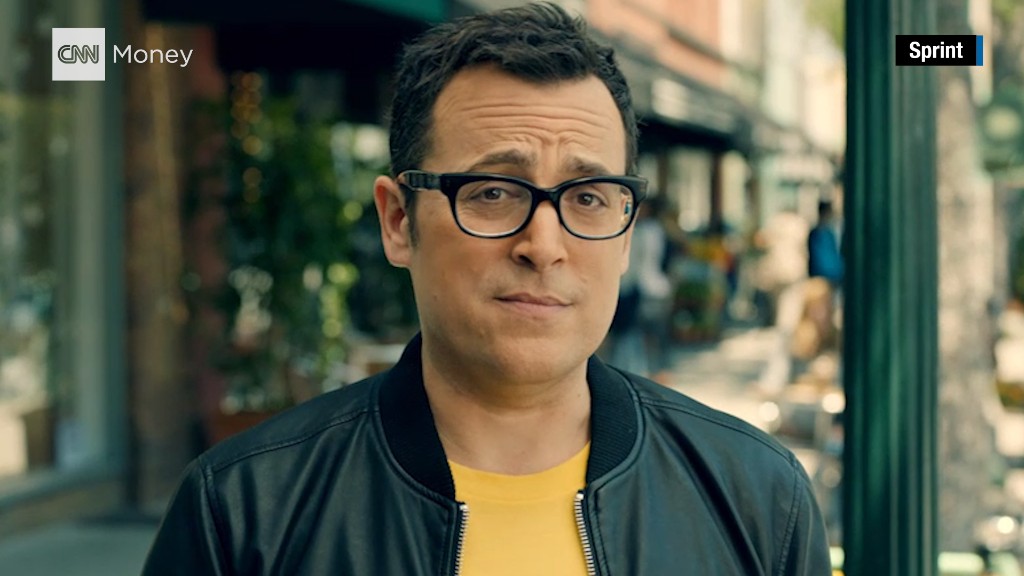 Those famous "Can you hear me now?" commercials are back. But this time, they're pitches for Sprint, not Verizon.
Paul Marcarelli, the character known as "Test Man" in the Verizon commercials that ran between 2002 and 2011, has defected. In a new ad campaign beginning during Sunday night's NBA Finals game, Marcarelli will explain why he switched to Sprint.
"I used to ask if you 'can hear me now' with Verizon. Not anymore," Marcarelli says in his first Sprint commercial. "I'm with Sprint now, because guess what? It's 2016 and every network is great. In fact Sprint's reliability is now within 1% of Verizon and Sprint saves you 50% over Verizon, AT&T and T-Mobile's rates."
"Can you hear that?" Marcarelli adds.
The story is mostly true. Marcarelli really is a Sprint customer, though, as you might suspect, Sprint approached him first. Marcarelli's contract was over with Verizon, and Sprint asked Marcarelli to try out its network, according to CEO Marcelo Claure.
"He liked it, so we decided to do a campaign," Claure told CNNMoney. "We figured Paul would be the best person to tell everyone all networks are the same, but only Sprint can give you 50% off. He was pretty excited."
Claure said Verizon Wireless has been the gold standard for network quality. And in surveys, people say the "can you hear me now" commercials were the most memorable.
Verizon continues to boast about its network quality, and it's able to maintain the largest number of U.S. wireless customers -- and the highest prices -- because of its sterling reputation.
"Sprint is using our 2002 pitchman because their network is finally catching up to our 2002 network quality," Verizon spokesman Jeffrey Nelson said, noting that Verizon is the "most awarded wireless network ever."
Related: Verizon is tacking on another $20 fee
Sprint (S), by contrast, has suffered, with a reputation for slow data speeds, dropped calls and spotty coverage. Its disastrous 2005 merger with Nextel and its equally unfortunate bet on Wi-Max 4G technology (when the rest of the industry went with LTE) left Sprint maintaining an astounding five networks, all of which had an unsatisfactory performance.
Since then, Sprint has done an impressive job turning around its network quality. It still lags AT&T (T) and Verizon (VZ) in overall performance in the gold standard RootMetrics report, though RootMetrics notes that Sprint has shown remarkable improvement.
But there are many ways to measure network quality, and a new survey from Nielsen showed that Sprint's reliability was virtually the same as Verizon's. Reliability -- essentially your network working when it's supposed to -- is just one measure of quality, but it's an important one. And its what Marcarelli's Test Man sought to promote in Verizon's famous commercials.
"We've invested billions of dollars in our network," Claure said. "Times have changed. You can barely tell the difference [between networks] now."
Related: How Sprint is trying to fix its biggest problem
While it was working on improving its network over the years, Sprint has mainly been fighting its rivals on price. Sprint is running a campaign that advertises a 50% reduction in your bill if you switch from any of its three larger competitors.
The Better Business Bureau on Friday called Sprint's campaign misleading, noting that Sprint fails to take into account its activation charges, taxes and other fees. The Better Business Bureau also noted that Sprint doesn't exactly match competitors' plans. For example, it doesn't offer T-Mobile's "Binge On" free video streaming offer, which could drastically reduce T-Mobile customers' rates.
Claure defended Sprint's half-off claims.
"The '50% off' ads are as believable as they can be and as true as they can be," Claure said. "If you look at Verizon's rate plans and ours, it's split in half. I think the Better Business Bureau was a little confused."
Sprint said it would end its campaign where customers were shown sawing their bills in half anyway, replacing it with commercials featuring Marcarelli.
Claure hopes that by combining Sprint's price campaign with its new and improved network quality message, Sprint can add "millions more customers." Sprint fell to fourth place in the wireless race as T-Mobile (TMUS)leapfrogged it earlier this year.
"Now we're emphasizing not just our price but also a great product," Claure said. "If our network is comparable to Verizon, then for sure it's better than T-Mobile's. This is the right time to join Sprint."