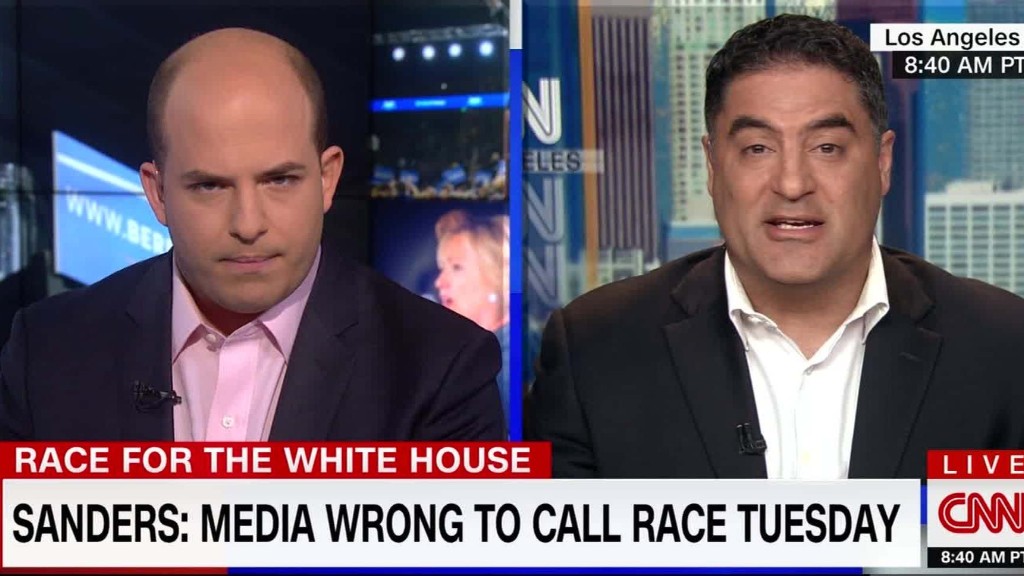 News outlets, led by the Associated Press, are beginning to call Hillary Clinton the Democratic party's "presumptive nominee" for president.
Some Bernie Sanders supporters say the shift in language is premature and even downright undemocratic. But major news organizations are confident that it's accurate and appropriate.
The objections from Sanders supporters are shining a spotlight on the news media's role in tallying up and announcing primary results.
After the Puerto Rico primary on Sunday, Clinton was on the verge of having all the delegates she needed to lock up the nomination through a combination of pledged delegates and super delegates. On Monday night, the Associated Press said its updated surveys of super delegates had put her over the top one day before a crucial primary in California.
The A.P. report caught its competitors off guard. It said old-fashioned "hustling," a blitz of phone calls to super delegates, led to the scoop.
Both the Clinton and Sanders campaigns warned that the report could dampen voter turnout in six states on Tuesday. Some supporters of both candidates also criticized The A.P. on social media.
But the newswire's point of view was clear: its responsibility was to report the facts on the ground, not withhold anything from readers.
Later on Monday, NBC, CNN and other news outlets matched The A.P.'s totals. Some guests on cable news channels acknowledged the awkwardness of the timing.
But if it hadn't happened on Monday night, it would have happened on Tuesday, thanks to the primaries in several key states.
"Presumptive" is the key word in "presumptive nominee," since candidates do not become nominees until party conventions are held in July. Over the weekend, newsroom leaders said they would include appropriate caveats in their reporting. And sure enough, The A.P., CNN and other outlets repeatedly included cautionary language in reports on Monday night. But to ignore the delegate math, they say, would be misleading and wrong.
One of the primary counterarguments among Sanders supporters is that super delegates, whose votes are independent of state primary results, should not be counted because they do not actually vote until the convention.
But news outlets routinely survey super delegates to find out their intent. And the vast majority of these Democratic party insiders are supporting Clinton.
While super delegates can conceivably switch from one candidate to another until the convention -- and that's what Sanders is counting on -- there is still value in reporting their intent, CNN political director David Chalian said.
"The super delegates certainly could change their minds between now and the convention. And if she fell below that threshold, she would no longer be the 'presumptive nominee,'" he said on the air Monday night. "But there's no evidence that's happening, And we'll report that out if it does, of course."
Related: Hillary Clinton clinches Democratic presidential nomination
Furthermore, as CNN's John King said on Sunday, there are other super delegates waiting in the wings who haven't publicly committed to Clinton or Sanders, but "many of them who are Clinton people. They just haven't publicly said so yet."
These additional super delegates will widen Clinton's lead.
Political experts had been eyeing New Jersey -- and its 8 p.m. poll closing time on Tuesday -- as the threshold state for Clinton for several weeks. MSNBC's Chris Matthews brought it up to Bernie Sanders' campaign manager, Jeff Weaver, on the air last month.
"The networks will be prepared, including this one, to announce that Hillary Clinton has now gotten over the top," Matthews said.
That observation has since been cited by some Sanders backers as evidence of a conspiracy. New York Daily News columnist Shaun King called it "clear evidence" that the networks are "colluding together."
In fact, the threshold moment is self-evident based on the delegate math. News organizations make individual decisions about projecting election winners.
When contacted for this story, representatives of the major networks declined to comment on internal editorial conversations. But several executives confirmed that the "presumptive nominee" term would be applied once Clinton reaches the party's magic number of 2,383 through a combination of pledged and super delegates. That's what began to happen on Monday night.
On Monday night, NBC's Andrea Mitchell said on MSNBC that The A.P. is the "gold standard" when it comes to tallying the delegates.
Earlier, in an email message on Sunday, the A.P.'s U.S. Political editor David Scott, said the wire service chooses its words very carefully.
"A.P. uses the term 'presumptive nominee' when it becomes clear a candidate for president will be formally nominated at their party's summer convention," he said.
Ignoring the delegate totals — including the intents of super delegates — would mean the networks and other news outlets would be ignoring the most important facts of the entire Democratic primary process.
By using the word "presumptive" when talking about Clinton, and by including caveats about the inclusion of super delegates in her total, journalists are leaving the door wedged open, albeit slightly, for a change between Tuesday night and the convention in July.
That's the same way the GOP race is being covered: until the RNC convention, Donald Trump is the "presumptive" nominee.