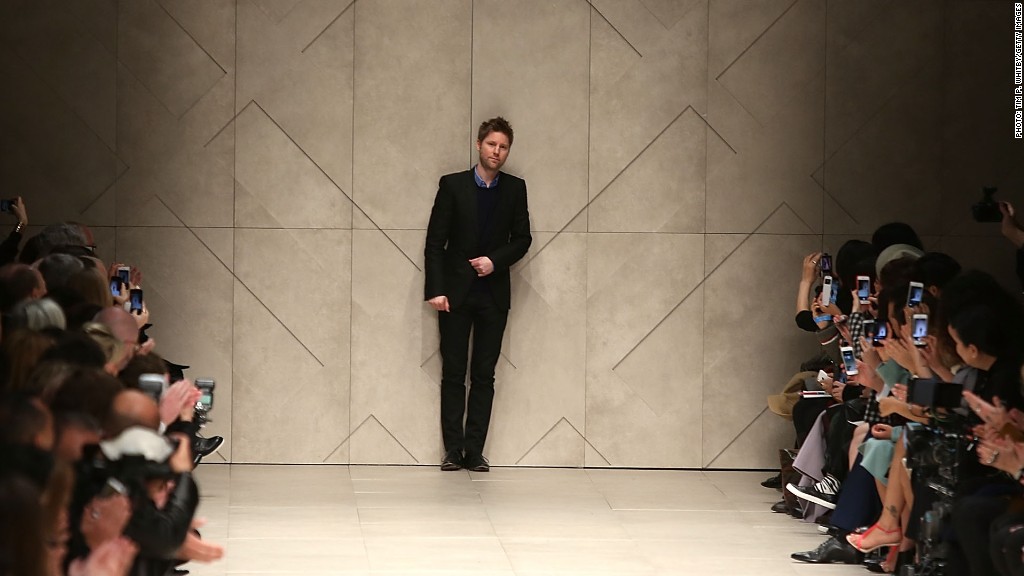 The boss of Burberry has got some belt-tightening to do after being handed a 75% pay cut.
Christopher Bailey received £1.9 million ($2.7 million) for the year to March 31, 2016, compared with £7.5 million ($10.8 million) the previous year.
Bailey's base salary remained flat but his bonuses were cut to zero because Burberry (BURBY) failed to hit profit targets.
Bailey holds two titles at Burberry -- he is the company's CEO as well as the chief creative officer.
Burberry had a terrible year. Its shares are down almost 10% in 2016 and have lost 35% in the past 12 months.
Chairman John Peace called 2015 a "watershed year for the luxury sector" in a letter to shareholders.
Sales in Asia, Burberry's key market, have fallen sharply. Chinese shoppers have been turning away from Burberry's trademark checked trench coats and other luxury goods as the world's second biggest economy slows.
Pretax profit dropped 10% to £421 million and Burberry said it would cut costs by £100 million by 2019.
Related: Is this CEO worth 1,444 times what he pays his employees?
The massive pay cut comes just two years after shareholders revolted against Burberry's executive pay.
To appease investors ahead of next month's shareholder meeting, the company said none of Burberry's top executives would receive an annual bonus this year.
Related: British CEOs should take a 50% pay cut
The backlash over executive pay is growing, as more investors question the discrepancy between lower returns and rapidly rising salaries.
They're also worried by the widening gap between average pay and salaries at the top.
Investors in BP (BP) and Weir (WEIGY) rejected CEO pay deals last month. Anglo American (NGLOY), Standard Chartered (SCBFF), Citigroup (C), Renault (RNLSY) and Shire (SHPG) have also faced shareholder rebellions, although on a smaller scale.
The next big showdown is expected on Wednesday over the pay of Martin Sorrell, the CEO of advertising giant WPP (WPPGF). Sorrell made £70 million ($102 million) in 2015. That's 1,444 times the average pay of WPP's 125,000 employees.
Several shareholder groups are advising investors to vote against the package.