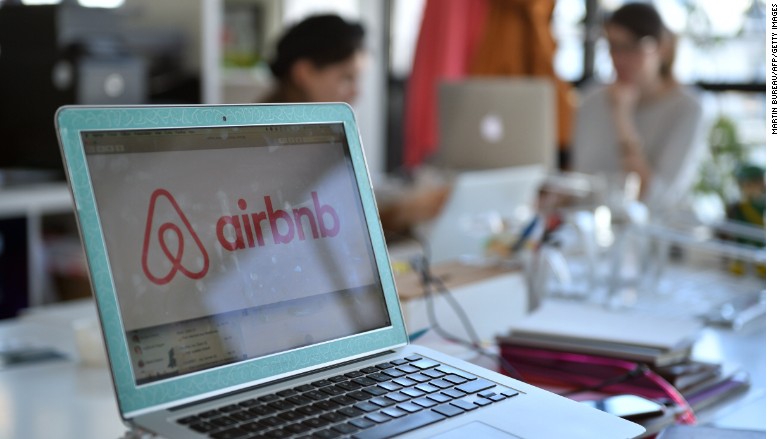 Airbnb's discrimination woes are growing.
The company is already being sued for ignoring racial discrimination. The suit claims Airbnb ignored reports from users who were refused a room based on their race.
A similar tale surfaced on Twitter this weekend, this time it was a transgender woman who was refused a place to stay.
Last year, Shadi Petosky was denied a room listed on Airbnb because she was transgender. After Petosky told the host she was transgender in a message, the host replied to say she would not be able to rent the space because she had a son.
Related: Airbnb sued for discrimination
"I really appreciate your honesty. I'll have to pass though, but thank you. I have a 13 year old boy going through puberty. I don't want him to feel any discomforts in his own home," the host said in a message.
Petosky reported the incident to Airbnb at the time, but tweeted that the company didn't take action.
Then, on Saturday, Petosky tweeted about her experience along with a screenshot of the host's message. The tweet went viral, and has been retweeted more than 1,000 times.
It was enough to catch the attention of Airbnb, which suspended the host on Monday.
"Discrimination has no place in the Airbnb community. We are removing this host from Airbnb," spokesman Nick Papas said in a statement. The company is also reviewing the incident.
Last week, Airbnb released a memo stating it was launching an internal review to see what else it can do to battle discrimination. It has asked Laura Murphy, former head of the ACLU's DC office, to lead the project. It's also offering unconscious bias training to employees and some hosts.
Airbnb lets regular people rent out their entire home, or have guests stay with them while they're also there. Before someone can book a room, they message the host. The host then has the ability to decline the booking without penalty-- and doesn't need to give an explanation.
Related: Airbnb hosts found to discriminate against guests with 'black' names
Airbnb does have an anti-discrimination policy that states "we prohibit content that promotes discrimination, bigotry, racism, hatred, harassment or harm against any individual or group." It does not specify discrimination based on sexual orientation or gender identification.
The company does point out that many countries have laws against discrimination based on "race, religion, national origin, disability, sex, sexual orientation, or age," and says that hosts are required to obey local laws. In the U.S., that includes the Fair Housing Act, which does not apply to many Airbnb listings, such as owner occupied units with four or fewer units.
The lawsuit and Petosky's complaint are not the only examples of discrimination. Studies have found that Airbnb hosts discriminate based on "black-sounding" names, and that Asian hosts make less on the platform. The hashtag #airbnbwhileblack went viral earlier this year with tales of rejection based on race.