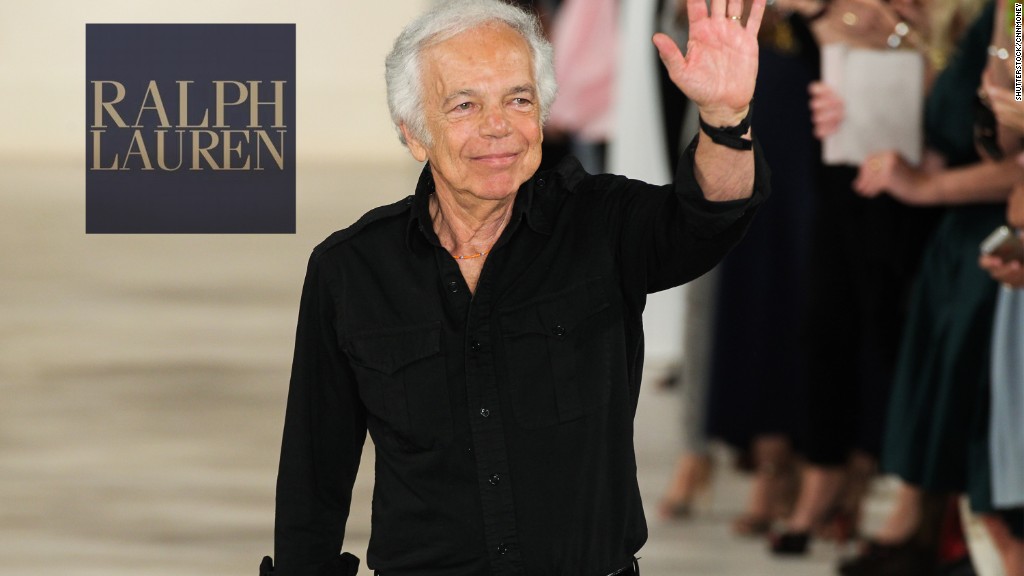 Ralph Lauren is getting a big makeover.
The fashion company plans to restructure its business by reducing its workforce, closing stores and shifting focus to its core brands. Ralph Lauren is calling the new strategy its "Way Forward Plan."
The company also plans to cut 8% of its workforce in the current fiscal year. As of April, it employed about 26,000 people around the world, 11,000 of whom are part-time workers.
The planned job cuts will be in addition to the 5% workforce reduction that the company already implemented in its last fiscal year.
The company's eponymous founder, Ralph Lauren, said on a webcast with investors Tuesday that he backs new CEO Stefan Larsson's plan.
"I'm trusting my baby with him, and my baby has to grow up," Lauren said.
Larsson said the company plans to close about 50 stores "that don't [strengthen] the brand." The company currently has 493 stores, including 216 in the U.S.
Ralph Lauren (RL) shares fell 5% in early trading.
Related: What the heck happened to Ralph Lauren?
Ralph Lauren has suffered in recent years as the market has shifted to "fast fashion" brands, such as H&M, Forever 21 and Zara. Like other traditional clothing retailers, such as the Gap (GPS), Ralph Lauren takes far longer than "fast fashion" brands to adapt to new styles.
It also relies on struggling department stores to drive sales.
The company's latest quarterly earnings beat Wall Street's expectations, but marked a clear slowdown in sales compared to a year prior.
Ralph Lauren's stock lost nearly 40% last year, and it's down another 20% so far in 2016.
The company changed hands in September when Lauren, 76, relinquished his CEO title to Larsson. The new CEO is the former global president of Old Navy who has also held various positions at H&M during his 15-year tenure there.
Ralph Lauren said its "Way Forward" restructuring would cost $400 million, including $95 million in "severance and benefit costs" and $205 million in "lease termination and store closure costs."
Ralph Lauren hopes says these cuts will save between $180 million and $220 million per year.
The company said it's also restructuring to create a "more nimble organization by moving from an average of nine to six layers of management."
"There's no reason why you would need more than six layers between me, and the doer doing the work," Larsson said on the webcast.