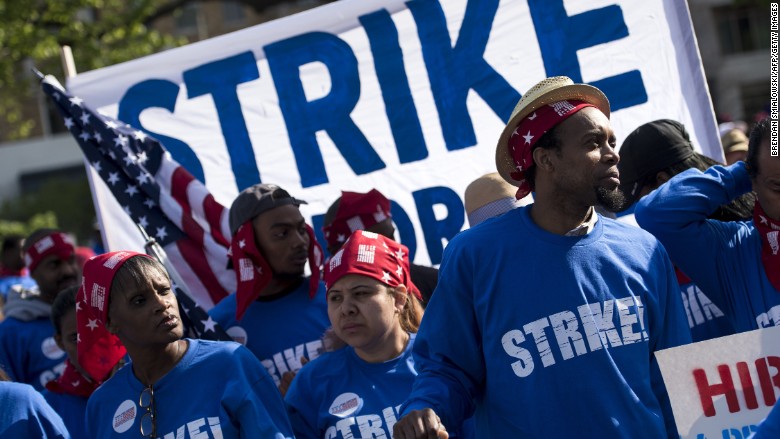 Washington D.C. could be the next place to raise its minimum wage to $15 per hour.
Following New York and California's lead, lawmakers in the U.S. capital city on Tuesday unanimously approved a plan to bring the district's minimum wage to $15 by 2020. Under the proposal, future increases would be tied to inflation.
The measure will need to pass a final vote on June 14, but Tuesday's vote indicated the council members have largely reached a consensus.
It could mark yet another victory for the "Fight for $15" campaign, which has lobbied nationwide to boost pay for low-income workers. After the group found initial success in a few major cities like San Francisco and Seattle -- California and New York became the first to enact statewide laws earlier this year.
D.C., like most cities and states, has implemented a minimum above the federally mandated $7.25 per hour. It currently stands at $10.50 per hour.
Mayor Muriel Bowser first backed the "Fight for $15" movement in March, and she introduced the legislation that the D.C. Council approved.
The measure would also raise the minimum wage for tipped workers from $2.77 to $5 over the next four years, a move that the National Employment Law Project said didn't go far enough.
The NELP said that will not "meaningfully raise the tipped wage [and] leaves behind 29,000 restaurant, nail salon, car wash and other tipped workers" in D.C., adding that will primarily affect women and minorities who are particularly prone to poverty.
For comparison, most other places that have been at the forefront of updating wage laws are extending pay hikes for tipped workers that go markedly above D.C.'s $5 target.
Seattle and all of California plan to pay tipped workers the same $15 rate, and New York is boosting its tipped minimum to $10.