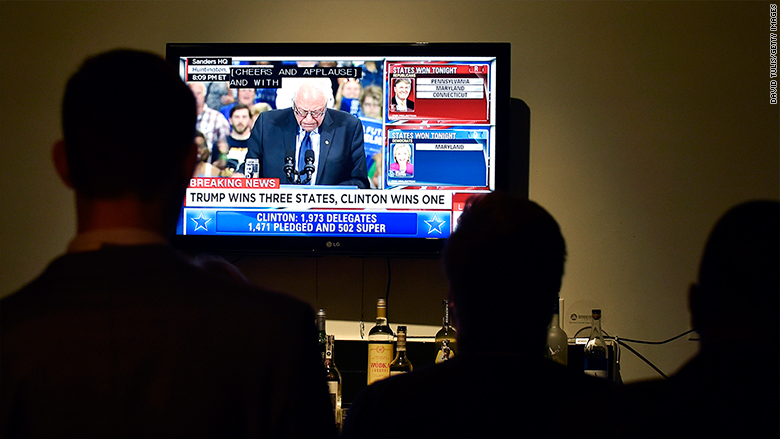 Pundits say this year's presidential election is historic. Partisans warn of dire consequences if the other side wins. And the public seems to be paying attention.
A new Gallup poll finds that 75% of American adults are giving the election "quite a lot" of thought. When Gallup asked the same question at the same time of the year in 2000 and 2004, interest in the presidential race was substantially lower.
Gallup says the new results are on par with 2008, when Barack Obama was energizing Democrats and stirring talk of a possible first black president.
Notably, however, it is Republicans who are more plugged-in than Democrats, according to Gallup's survey.
They are "more likely than Democrats to say they are following the race closely, continuing a pattern seen in previous campaigns," the polling organization says. "Even in the final days of the Democratic victories in the 2008 and 2012 presidential elections, Republicans were more likely than Democrats to say they were thinking about the election quite a lot."
Gallup's poll was conducted in mid-May, after Donald Trump had become the presumptive GOP nominee but before Hillary Clinton had become the presumptive Democratic nominee.
Another rough measure of public attention, cable news ratings, line up with Gallup's findings. The combined big four cable news channels ow have their highest sustained levels of viewership since 2008, according to Nielsen data.
By some measures, the channels are even ahead of where they were in 2008.
Related: Buzzfeed chairman hosting Obama at Democratic fundraiser
Presidential election coverage -- including special events like debates and primary nights -- is the primary driver behind the ratings spike.
The most recent example came on Tuesday, the final so-called "Super Tuesday" of the primary season. Ratings were up across the board thanks to Clinton and Donald Trump's victory speeches and primary results in six states.
Fox News usually ranks No. 1 among the cable newsers in prime time, but CNN claimed that title on Tuesday by averaging 829,000 viewers ages 25 to 54, three times its average from the night before.
MSNBC averaged 466,000 in the same 25- to 54-year-old demographic, narrowly beating Fox News, which had 458,000 viewers in the demo.
Fox News still won among total viewers, with 2.5 million, while CNN was close behind with 2.4 million and MSNBC followed with 2.05 million.
The cable news ratings and Gallup results matter for several reasons. One of them: the results may foreshadow higher levels of voter turnout in the fall.
Related: Jamie Dimon to Americans: 'You're being manipulated'
According to Gallup, "fewer than half of Americans in May 2000 were paying a lot of attention to that year's presidential election, and the turnout reflected the lack of interest. About half of eligible voters (51.2%) cast a ballot, the third-lowest turnout rate (ahead of 1996 and 1988) since 1924."
Conversely, Gallup said, "in the 2008 presidential campaign that produced the highest voter-turnout percentage in 40 years, a late-May poll showed a level of interest similar to this year's."
Gallup found that conservatives' enthusiasm to vote "has grown, while liberals' has faded," compared to 2008. The pollsters noted that "enthusiasm could grow in both parties" as the general election approaches.
Gallup does not have comparable polling data from May 2012 to compare to this year's results.
But if cable news ratings are a guide, there's a whole lot more interest this year than there was in 2012.