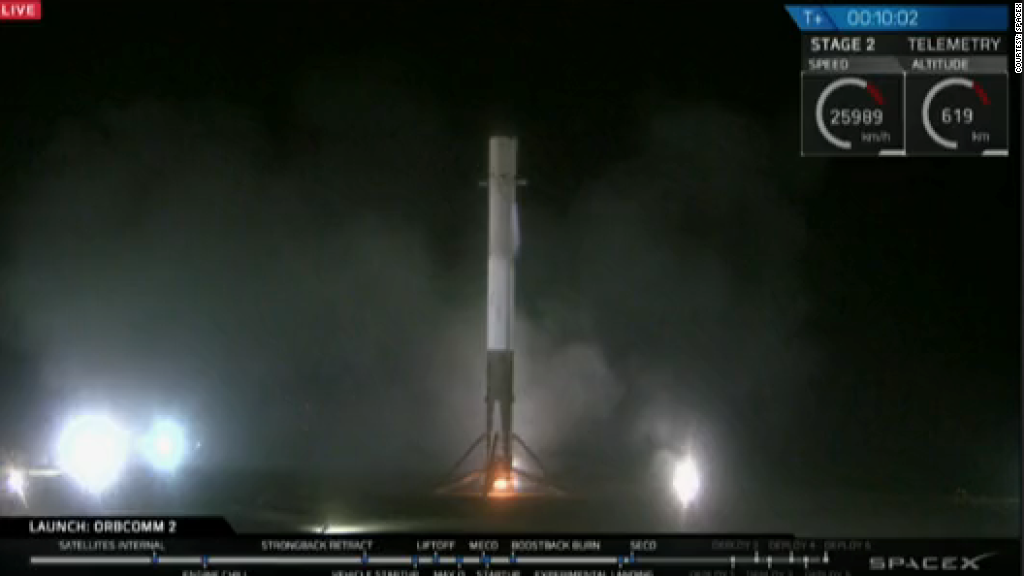 SpaceX CEO Elon Musk is moving ahead with a plan to relaunch one of his rockets this fall.
"Fourth rocket arrives in the hangar," Musk tweeted on Tuesday. "Aiming for first reflight on Sept/Oct."
The message from Musk, who is also the CEO of Tesla Motors (TSLA), included a photo of the four reusable rockets that have been successfully recovered by the company.
SpaceX completed its most recent successful flight on May 6, landing the first stage of one of its Falcon 9 rockets on a floating barge in the Atlantic Ocean. The rocket had launched from Cape Canaveral and delivered the JCSAT-14 communications satellite for the Japanese telecom Sky Perfect JSAT Corp.
Landing an upright rocket on a floating platform is not an easy feat, and SpaceX had multiple crash landings before it was able to do its first successful sea landing on April 8.
The ability to use rockets in multiple launches is crucial to cutting the cost of space travel and exploration. Most rockets that have carried people or satellites over the past 58 years have been discarded after their launch, often burning up upon reentry.
SpaceX has not yet announced the payload that will be carried by the reusable rocket on its second flight. The firm has several private satellite launches on its schedule, and it also has a contract with NASA to supply the International Space Station.
The company's next launch from Cape Canaveral is scheduled for June 14, according to its Twitter (TWTR) account.
Musk has even bigger goals for SpaceX -- at the technology Code Conference last week, he announced plans to take humans to Mars by 2025.
The top competitor to SpaceX for reusing rockets and upright landings is Blue Origin, run by Jeff Bezos of Amazon. (AMZN)
Bezos has also been experimenting with relaunching his New Shepard rocket, which carries an automated space capsule. The New Shepard's current design limits it to suborbital flights, but Bezos plans to eventually send paying customers into space.
Related: Nigeria has a space program
Private companies are becoming far more active in the field of space exploration.
An upstart company called Moon Express is hoping to build a viable business flying commercial flights to the moon, and is close to being the first firm to win U.S. government approval for a private flight to the moon.
Co-founder Naveen Jain told CNNMoney that he expects the company to be profitable with its first flight.
-- Chris Isidore contributed reporting.