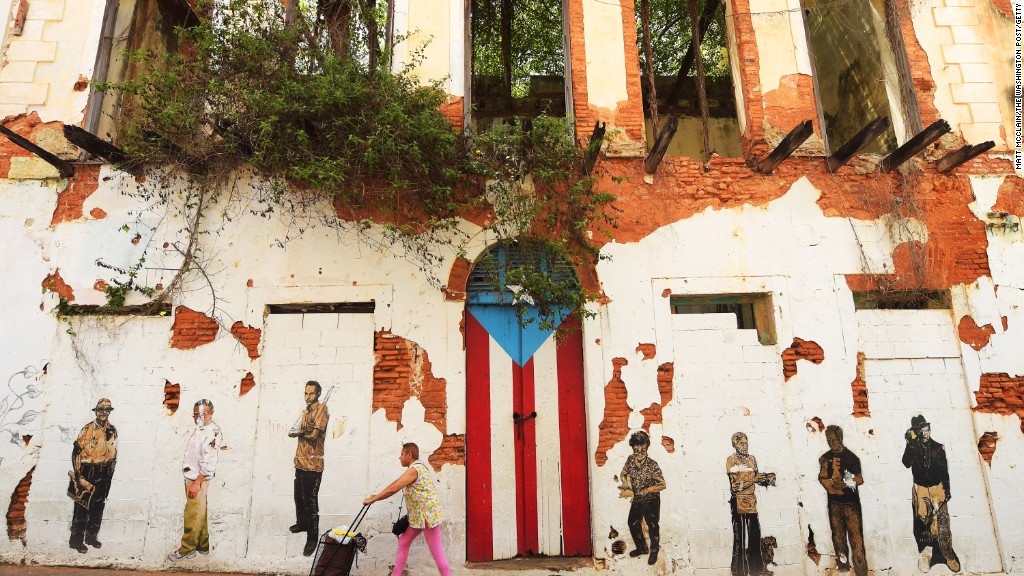 Relief for Puerto Rico is near.
On Thursday evening, the U.S. House of Representatives overwhelmingly passed a bill to help the island avoid economic collapse. Puerto Rico is $70 billion in debt and stuck in a recession. The situation is so dire that Puerto Ricans are literally fleeing the island at a rate not seen since the 1950s "West Side Story" era.
The bill is being hailed as a bipartisan compromise. President Obama and Hillary Clinton both support it, as does Republican House Speaker Paul Ryan.
"Today the House acted to prevent Puerto Rico's fiscal crisis from escalating to a humanitarian catastrophe," said Rep. Rob Bishop, a Republican from Utah who helped to draft the bill.
Related: Puerto Rico's crisis: How did it get so bad?
The bill, known as PROMESA (the Spanish word for "promise") passed the House with a vote of 297 to 127. It creates an Oversight Board to control the island's finances. The board would have special abilities to restructure the island's debt, but only as a last resort.
Puerto Rico has already defaulted three times in the past year. A hefty payment of nearly $2 billion is due July 1.
If the U.S. Senate moves quickly to pass PROMESA, Puerto Rico may not have to make the full July payment. Under the terms of the bill, Puerto Rico would get a grace period through at least February 2017 where the island would only have to pay interest on its debts (if it can). Creditors would not be able to sue.
The idea is to give the Oversight Board time to come up with a plan.
"The Senate should act expeditiously to review and vote on this measure, so the president can sign the bill into law ahead of the critical July 1st debt payment deadline," the White House said in a statement Thursday.
Related: Puerto Rico is losing a doctor a day
PROMESA gives the Oversight Board the ability to sell Puerto Rican government assets, and it would allow the island to temporarily lower the minimum wage for some workers.
Republican presidential candidate Donald Trump has made it clear he is against any "bailout" for Puerto Rico, but no taxpayer funds are used to pay the island's debt in the bill.
What happens next in Puerto Rico's debt saga will largely depend on who is appointed to the Oversight Board.
"It will all be predicated on the execution," said Dominic Frederico, CEO of Assured Guaranty, this week. His company is one of the insurers of Puerto Rico's debt.
Puerto Rico is a U.S. territory. About 30% of its debt is owned by Puerto Ricans, many of whom bought the bonds to fund their retirement. Another roughly 15% is held by other Americans, mostly in municipal bond funds.
"It's really troubling from a creditor point of view," Frederico said.