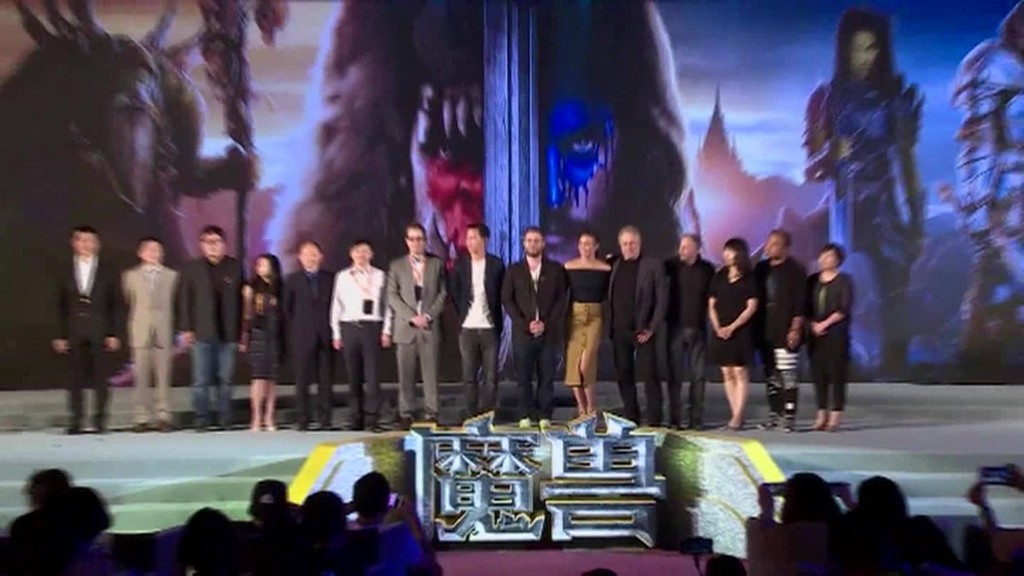 Despite terrible reviews from critics, the "Warcraft" movie is a smash hit in China.
The fantasy epic, based on the popular video game "World of Warcraft," opened Wednesday in the world's most populous nation, two days earlier than in the U.S. Tapping into a hardcore fan base of Chinese gamers, it raked in $45 million at the box office on its opening day, according to industry consultants Entgroup.
That's the best opening for a movie in China so far this year, and the film is forecast to bring in way more revenue than "Star Wars: The Force Awakens" has in the country.
Richard Huang, an entertainment analyst with Nomura, said he believes "Warcraft" is on track to generate $300 million, which would make it China's second highest grossing film of the year. (The biggest is the goofy Chinese comedy "The Mermaid," while "The Force Awakens" ranks 9th, according to the popular movie platform Mtime.)
Related: China's hottest film ever is about mermaids
Huang said "Warcraft" is benefiting from the fact that many Chinese in their 20s and 30s grew up playing "World of Warcraft."
"Even [though] a lot of movie commentators have expressed their negative view of the movie, a lot of the Chinese still felt like they need to go to the theater to watch," Huang said.
Expectations for its performance in the North American market are much more muted, though, according to trade publications. And reviewers really don't like it: the movie has a 24% rotten rating from critics on review site "Rotten Tomatoes."
Its success in China comes as Hollywood is aggressively pursuing the country's growing numbers of moviegoers.
Related: China box office scam of phantom screenings and fake sales
Chinese box office sales surged 49% last year to reach 44.1 billion yuan ($6.7 billion), while the North American market grew around 7% to $11.1 billion over the same period, according to comScore, a firm that monitors movie viewing. Nomura predicts that China will overtake the United States in 2017 to become the world's largest movie market.
China strictly controls how many foreign movies can be released each year. But tie-ups between Hollywood and China are increasingly common, with U.S. studios drawing on local contacts and expertise to help market their movies to a Chinese audience.
"Warcraft" is backed by powerful players in the Chinese media industry. Co-producer Legendary Entertainment is now owned by Dalian Wanda Group, a huge Chinese real estate and entertainment conglomerate. Wanda also owns the country's largest chain of cinemas. Chinese tech giant Tencent (TCEHY) also took a stake in the film.