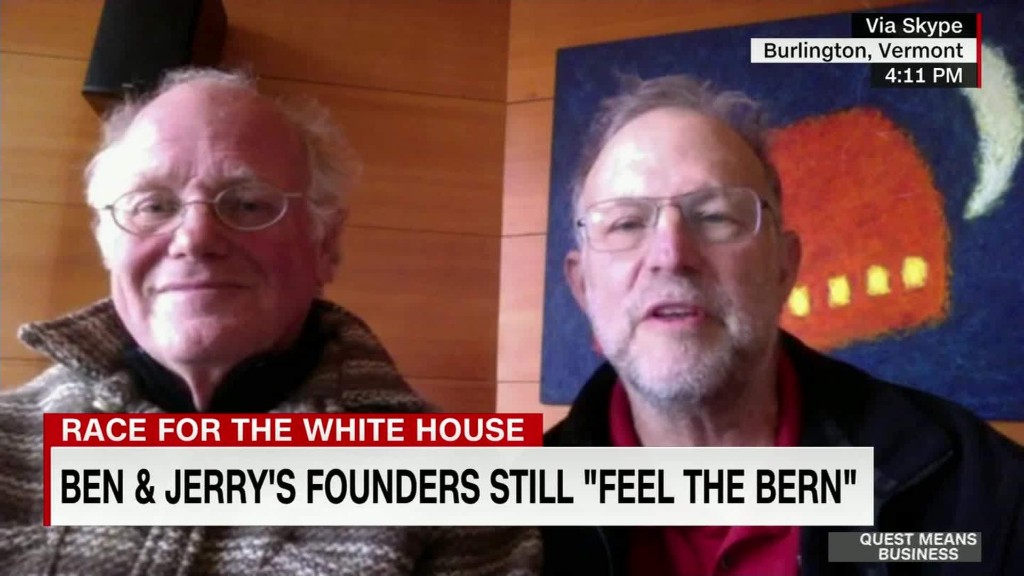 It could get really awkward for Ben and Jerry between now and November.
The co-founders of Ben & Jerry's ice cream admit they're split over whether to support Hillary Clinton now that their preferred candidate Bernie Sanders appears likely to exit the 2016 presidential race.
"Maybe something's going to happen in the future, but right now I could not pull the lever for Hillary," Ben Cohen told CNN's Paula Newton on Quest Means Business. "Hillary Clinton is kind of a poster child for big money in politics."
While Jerry Greenfield wishes Sanders had gone all the way, he believes the most important task is keeping Donald Trump from reaching the Oval Office.
"I'm completely committed to defeating Donald Trump," he said. "If Hillary is the [Democratic] nominee, I'm going to vote for her."
Related: Hillary Clinton's best economic idea
Cohen and Greenfield have been some of the most vocal cheerleaders of Sanders' campaign. The two ice cream-making icons have donated more than $1,400 to his campaign, according to OpenSecrets.org.
Cohen even created an ice cream flavor called "Bernie's Yearning" to honor Sanders. It featured a pint of plain mint ice cream covered with a thick disc of solid chocolate to represent "the huge majority of economic gains which have gone to the top 1%." The flavor was limited to 40 pints and was not affiliated with the Ben & Jerry's brand.
Both Cohen and Greenfield were among hundreds of protesters arrested in Washington in April at a demonstration against money in politics. Cohen says it's his commitment to this cause that would prevent him from endorsing Clinton.
"Maybe I'm a single issue voter, but I can't do it," he said.