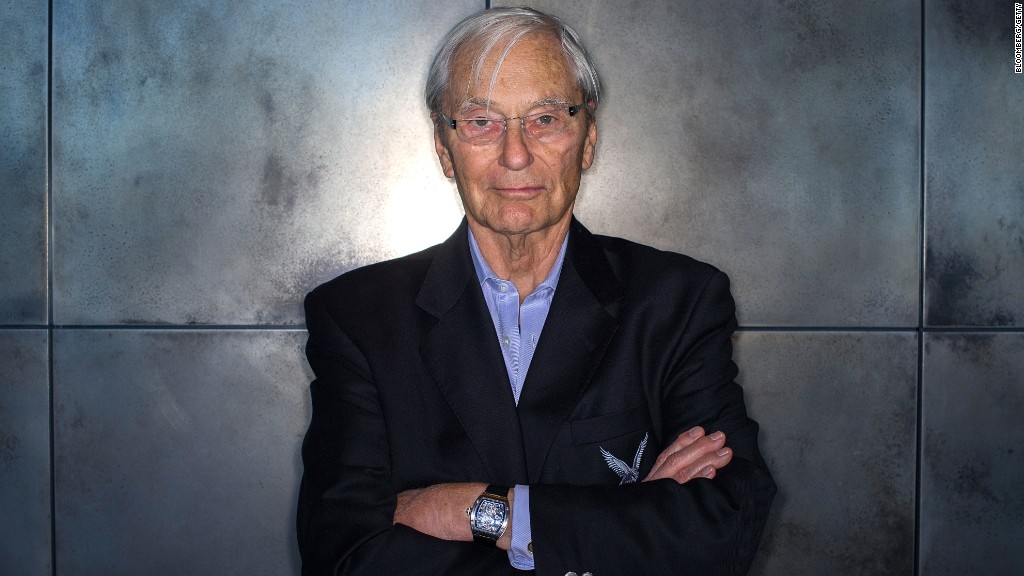 Thomas Perkins, billionaire founder of famed Silicon Valley venture capital firm Kleiner Perkins Caufield & Byers, has died at the age of 84. He passed away Tuesday night in his Bay Area home following a lengthy illness, according to his assistant Kathy Daly.
Perkins got his start at Hewlett-Packard in 1963 and was the first general manager of the company's computer division. The MIT and Harvard grad started Kleiner Perkins in 1972. The firm was known for its early investments in some of the tech industry's biggest successes, including AOL, Google, Netscape, Amazon, Genentech and Intuit.
Related: Investor compares U.S. wealth debate to Nazi Germany
In addition to being a Silicon Valley tycoon, Perkins was a romance novelist, a yachtsman and a staunch defender of the rich.
Long retired from his career as a venture capitalist, Perkins still managed to make headlines. In a letter to the Wall Street Journal in 2014, Perkins compared anti-technology protesters in San Francisco to Nazis.
At a 2014 talk in San Francisco, Perkins suggested that only people who pay taxes should be allowed to vote, and that the rich should get more votes to go along with their higher tax rates. He later said he was kidding about the extra votes part.
Related: Tom Perkins' big idea: The rich should get more votes
Perkins was married twice and had no children. He was romance novelist Danielle Steel's fifth husband. Though the marriage ended in 1999, the two remained friends and Steel encouraged him to write his first and only romance novel in 2009. "Sex and the Single Zillionaire" is a racy story about a wealthy widowed investment banker who goes on a reality TV dating show.
He was also well known for building one of the world's largest sailing mega-yachts, a 289-foot luxurious boat named The Maltese Falcon.