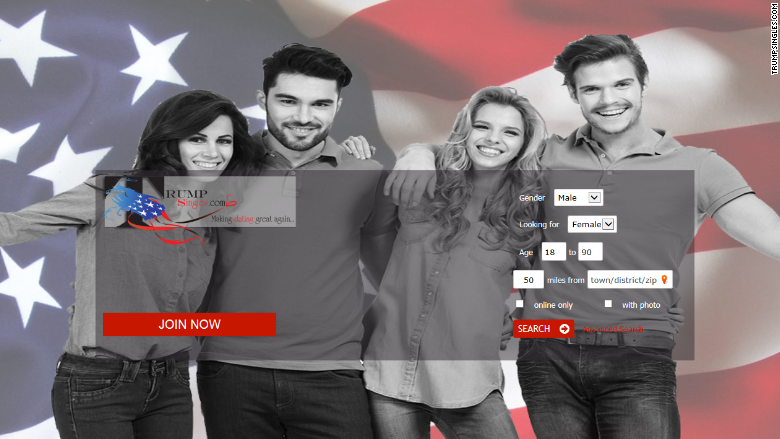 Dating while supporting Trump can be difficult -- and TrumpSingles.com wants to make dating great again for those people.
The site lets singles find others who share their political beliefs, namely, that Donald Trump should be the next president.
TrumpSingles.com, which launched in May, has nearly 7,000 users from around the world, according to founder David Goss.
Like other dating services, users can select what they want: "Fun," "Whatever," "Dating," or "Like-Minded Friendship." They can filter everything from physical features (eye color, body type) to lifestyle habits (smoking, drinking).
Goss, 35, said he snatched up the URL in February after coming across BernieSingles.com, a dating site for Sanders' supporters.
"Everyone thought it would be a great idea, from all sides of the political arena," said Goss, a freelance associate producer for reality TV.
Goss, who said he hasn't talked to Trump about the site, told CNNMoney that he's heard several stories of dates gone awry once a person reveals they are a Trump supporter.
Related: Dating app Bumble slams -- and bans -- misogynist user
The sentiment is palpable when clicking through profiles on TrumpSingles.
One 37-year-old man wrote: "We all know what dating is like being a Trump supporter! Especially in liberal New England!!"
Goss sees the site as a way to protect Trump fans from getting hurt down the line.
"Once you meet someone who is a Trump supporter, you have a better change of having a lasting relationship [if you're a supporter too]," said Goss, who supports Trump but is taken.
According to a recent survey from teen polling app Wishbone, 47% of those polled (10,000 people) would not date someone with different political beliefs.
Related: Just 52 tech workers donated to Trump's campaign
Other sites are banking on that as well.
MapleMatch made headlines in May for offering to find Americans love in Canada if Trump becomes president.
And BernieSingles.com is still going strong, despite the fact that Sanders has lost the Democratic primary race. The site, which launched in February, counts more than 12,500 registered users. Cofounder Joshua Kaunert said he sees Sanders as a figure for a populist movement among millennials that will live on beyond the election.
Kaunert said there have even been some dating success stories as a result of BernieSingles.com. The site has also garnered interest from grad students at George Washington University who are filming a documentary on Bernie Sanders fans who found love during the 2016 presidential campaign.
Goss believes this is only the beginning for TrumpSingles.
"We're going to have a much larger base than [BernieSingles]. He's not even in the race anymore. We have somebody who quite possibly -- and will probably -- win the race."