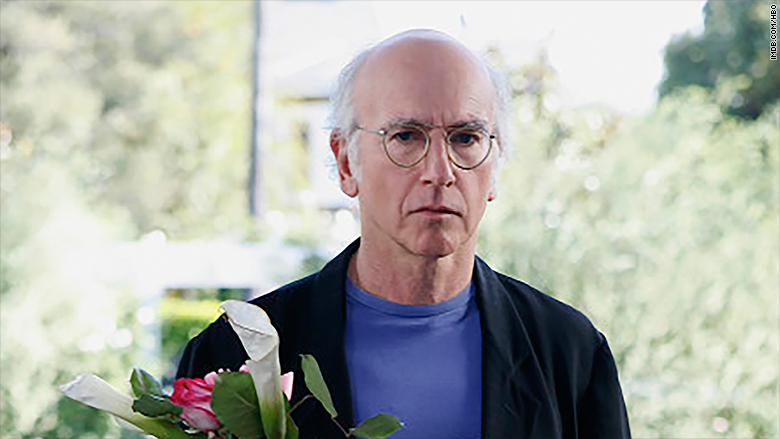 Pretty, pretty, pretty good news for "Curb Your Enthusiasm" fans.
The HBO series starring Larry David is returning for a ninth season, the network announced on Tuesday.
The comedy, which stars David playing himself as he curmudgeonly gets himself into socially awkward situations, has not been on air since 2011.
"In the immortal words of Julius Caesar, 'I left, I did nothing, I returned,'" David said in a statement about why he decided to come back to the series.
With 80 episodes to date, "Curb" is HBO's longest-running scripted comedy or drama series. It has also helped make David a star following his time as a creator on "Seinfeld."
HBO did not say when the show would return or if other cast members like Jeff Garlin or J.B. Smoove would be returning as well.
The return of "Curb" had been a question mark since the end of its eighth season.
Last week, Smoove told The Rich Eisen Show that David brought up the show recently asking if Smoove would be available to return, if need be.
"I call Larry every two weeks and I check on him because he's old," Smoove said. "He said, 'If I do come back, you going to be available?' I said, 'You know something, Larry, I will be available.'"
Related: Bernie Sanders and 'SNL' debut 'Bern Your Enthusiasm'
Even though, David has been away from the series on HBO, which like CNN is owned by Time Warner (TWX), he hasn't exactly been up to "nothing" as he said.
In the past months, the comedian has portrayed presidential candidate Bernie Sanders on "Saturday Night Live."
He even hosted "SNL" in February, which included a parody of "Curb" with David playing Sanders called "Bern Your Enthusiasm."
David also starred in a Broadway play he wrote entitled "Fish in the Dark."