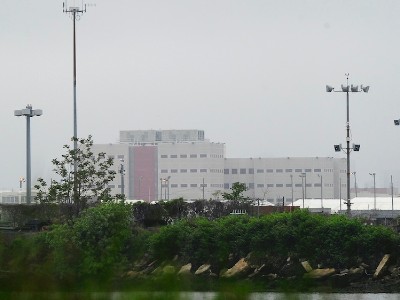 In a small office deep inside Rikers Island, the New York City jail notorious for violence and corruption, an inmate dressed in the facility's requisite dark green pants and shirt sits on a metal folding chair trying to figure out how to pay the nearly $80,000 in child support he has accrued over the past 15 years.
He tells Trevor Alexander, a representative from the New York City Human Resources Administration, the agency in charge of managing child support orders, he's never had a steady job and has been in and out of prison since his 17 year old daughter was a year old. Since then, he's been responsible for $166.50 in child support a week -- or roughly $8,600 a year -- though he's barely made a dent in that debt.
"I understand they want their money, but if I'm incarcerated I can't pay," said the inmate, who asked that his name not be used. "I work for the state making pennies."
Related: Costly prison fees are putting inmates deep in debt
In addition to the myriad other fees and fines inmates can incur, owing child support debt is one of the many ways that being incarcerated can be a financial nightmare. Many inmates are not aware that child support payments can accrue while they are behind bars. In fact, those who enter the system with child support debt could come out owing several times the amount they owed going in, either because the unpaid child support adds up or because of court mandated interest.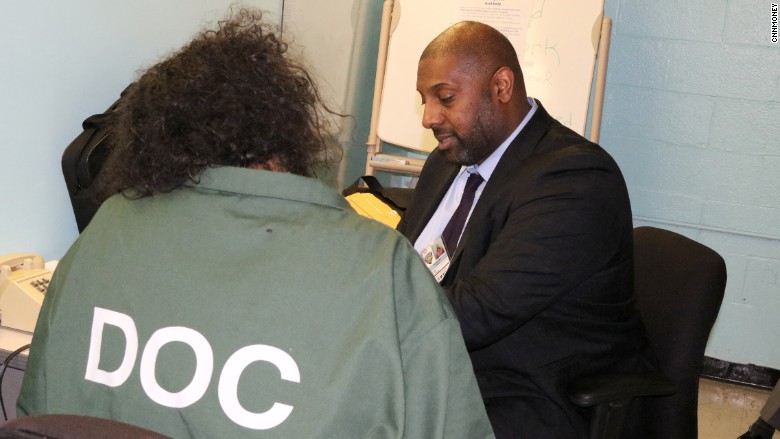 Outreach specialists like Alexander meet with inmates who are about to be released to inform them of their options, which include mediation with the custodial parent and services that can help lower their debt. The organization, which has been counseling inmates at Rikers since 2008, said it had helped to reduce some $500,000 in child support arrears by October 2015 for inmates at the facility. Citywide, the group said it has helped reduce child support debts by $69 million.
Part of the problem is that in some states, like Georgia and North Dakota, incarceration is considered willful or voluntary unemployment unlike being laid off from a job, which can enable the non-custodial parent to petition for a reduction in child support payments.
In 2010, New York started giving judges the discretion to reassess child support payments when a parent is behind bars. Glenn Martin, the founder and president of criminal justice advocacy group, JustLeadershipUSA, helped push the legislation through after serving six years in prison and accumulating $53,000 in child support debt. Martin and other advocates have been meeting with members of the Obama administration for nearly two years trying to get a federal law passed that would reclassify incarceration as involuntary unemployment and stop child support from accruing.
According to the most recent federal data from the Office of Child Support and Enforcement, of the 5.2 million people across the U.S. who owed child support in 2010, 662,000 were incarcerated.
Related: The steep cost of incarceration on women of color
The consequences for not paying child support can be severe. At Rikers, Alexander reviewed them with a group of 18- to 21-year old inmates while they were snacking on milk and cookies in a classroom. In addition to ending up back in jail for failure to pay "you could have your driver's license suspended, it could hurt your credit report, your property could be seized, your passport suspended," he told them.
"Child support is going to go ahead whether you are employed or not. Be careful," he said.
In New York, non-custodial parents can expect to pay 17% of their salary for one child, 25% for two, 29% for three and 31% for four. And if there are multiple mothers, "whoever files first gets the most," Alexander said.
Still, some inmates assume that they won't be able to pay. Others, when they get out of prison, give cash directly to the custodial parent when they can, but that money does not count toward child support debt unless they have a private court order allowing them to pay directly. Otherwise, the payments must be made though the HRA child support program.
JoAnne Page, the president and chief executive of The Fortune Society, a criminal justice advocacy group, said that when a parent is unable to pay child support after coming out of prison they may be forced to work off the books or leave town.
"If you load too much on the back of somebody who can't support it you end up losing both ways," Page said.
Related: Jobs out of reach for former inmates
Many former prisoners have trouble finding work when they are released since employers are often reluctant to hire people with criminal records. "The majority of men who come out actually want to pay," Martin said. "But they get these minimum wage jobs and [his wages are getting] reduced by the existing child support order and further reduced by the arrears."
Beth Huebner, a criminology professor at the University of St. Louis, said many of the young men she's met who owe child support have told her they fear they'll "never get out from under this."
Huebner is helping to lead an initiative with the St. Louis County Justice Center that will help former inmates find a way to pay off their child support debts and, by extension, stop them from being jailed again. The program, which is almost a year and a half old, focuses on men who have a history of failing to pay child support and have had their probation revoked and are waiting to see a judge, which can sometimes take up to three months.
The men, who are on work-release programs, are given electronic devices that monitor "when they go to work, where they go to work and how long they work," Huebner said.
They can face written warnings and more restrictive electronic monitoring and supervision if they earn enough to pay their child support obligations and fail to do so, Huebner said. But they face no penalty if they are still trying to find a job.
So far, 200 people in the program have paid back $250,000 in child support.