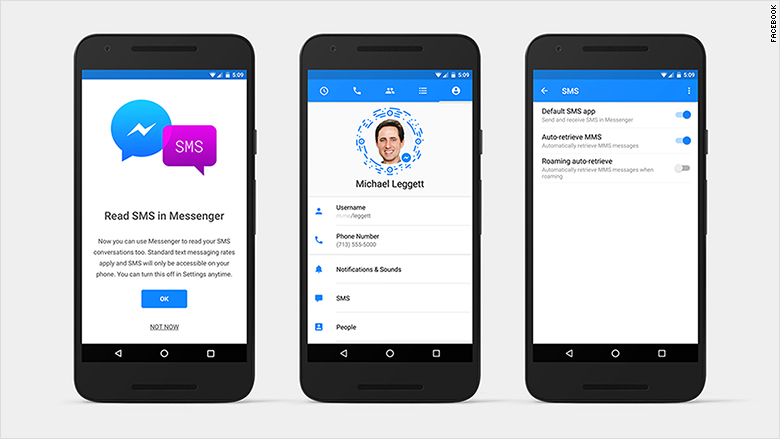 Facebook's mobile takeover strategy hit a new milestone Tuesday. The company announced that SMS text messages can now be sent and received through its Android Messenger app.
It's yet another way for Facebook to keep users confined to its apps.
"You will now have the choice to be able to send and receive your SMS/texts in Messenger and will not have go to different screens on your phone to communicate," Facebook said in a post.
The feature is optional, but Facebook is banking on Messenger's bevy of other functions to attract people. Things like making voice calls, requesting an Uber and sending money will still need to be done via Messenger and won't be treated as a text.
Facebook's announcement comes a day after Apple (AAPL) announced it would open its Messages app to developers to include some of these same features.
Related: Apple opens up Messages to developers
Messaging apps are a huge focus for tech companies right now as they look to add ways for businesses to communicate to customers, and for customers to stay glued to their phones.
Facebook (FB), Google (GOOGL) and Microsoft (MSFT) have invested heavily in messaging bot platforms that can automate tasks and fetch information. Smaller startups have popped up as well.
To turn on Facebook's new SMS feature, you can change the settings within Messenger. SMS chat threads appear as purple while Facebook Messenger conversations show up as blue. Regular text message fees apply.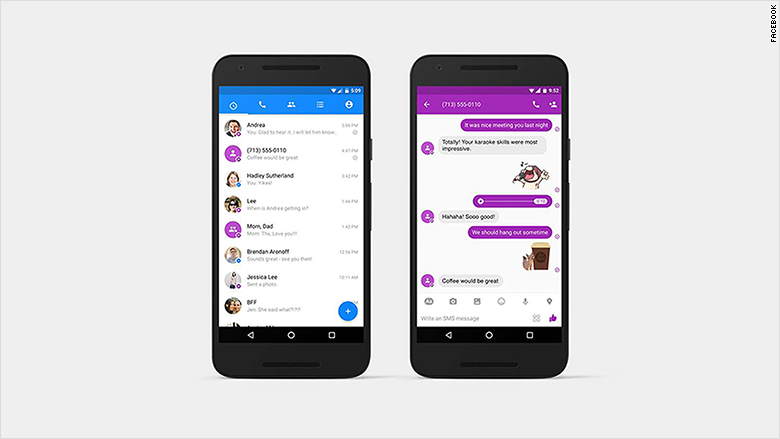 Facebook says that iOS doesn't currently support app permissions for accessing text messages, although the SMS recipient can be on any platform.