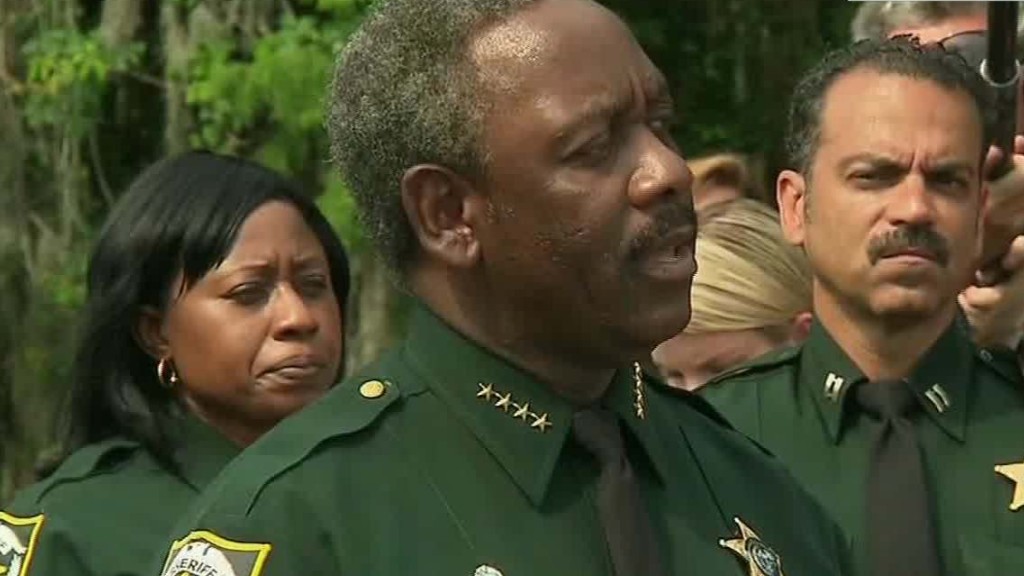 Disney is in the news for two very different reasons, which means ABC News is covering two stories uncomfortably close to home.
One minute, Disney's news division is promoting the launch of the new Shanghai Disneyland theme park. The next minute, it is reporting on the alligator attack at Walt Disney World that left a 2-year-old boy, Lane Graves, dead.
"We begin with that devastating headline from Disney World," the "World News Tonight" anchor David Muir said Wednesday night.
The newscast included a lengthy report about the gator attack. But it excluded an angle that NBC and CBS (CBS) explored in detail: Whether there should have been signs warning about the presence of alligators around the lagoon where the attack occurred on Tuesday night.
Related: Disney CEO calls family of boy snatched by alligator
From time to time, all big news organizations (including CNN) face questions about coverage of their parent companies. Because of its sheer size, Disney (DIS) is in the news more than most.
And Disney is known for taking corporate synergy to either new heights or new lows, depending on your perspective.
ABC's morning show, "Good Morning America," routinely integrates other Disney brands into its segments. This week "GMA" co-host Robin Roberts was scheduled to broadcast live from Shanghai on Monday, Tuesday and Wednesday.
But on Wednesday morning Roberts was missing. "GMA" covered the breaking news about the gator attack extensively, and ABC News executives decided it would be inappropriate to have Roberts at the light-hearted resort setting.
Related: Site of alligator attack is Disney World's marquee hotel
The producers of "GMA" restructured the show on short notice.
"The news came first," one newsroom source said, and "we look forward to celebrating Shanghai at another time."
Indeed, ABC had multiple taped stories about the new theme park ready to air — and some of ABC's local stations promoted them right up until 7 a.m. Wednesday.
But the coverage was put on hold, and the stories will air later, after Roberts is back in New York.
When asked about the coverage of the boy's death in Orlando, an ABC News spokeswoman said, "The mandate was clear -- cover this story like we would any other: straight down the middle."
"GMA" certainly did not shy away from it, devoting the first eight minutes of Wednesday's show to the news. The morning show didn't mention Shanghai at all.
But on the news division's web site, both stories were prominent on Wednesday. One feature was a virtual reality tour of the new resort.
"World News" also made the gator attack the top story, and disclosed ABC's corporate connection twice in the coverage.
ABC didn't appear to have any special access to the resort area. Correspondent Gio Benitez's report relied on helicopter video and photographs of the area around the lagoon.
"Disney says it will thoroughly review this situation," he told Muir.
Benitez's report noted that the beach area where the boy was attacked "does have a 'no swimming' sign, and a lifeguard on duty, but it happened too fast to help."
The newscasts on NBC and CBS went a lot further.
"Serious questions are being raised about whether Disney has done enough to keep its guests safe," Lester Holt said on "NBC Nightly News."
"Disney Under Fire Over Safety Violations" read the graphic on the bottom of the screen during correspondent Gabe Gutierrez's report.
Gutierrez interviewed a vacationer who said, "They didn't protect the beach. They didn't put the signs up to make people aware."
In his report, he also said, "Why no mention of alligators on the signs to keep people out of the water? Other hotels in the area do mention alligators. A Disney spokesperson tells NBC News, alligators in Florida are a fact of life, and they're in their habitat."
NBC's parent, Comcast (CMCSA), owns competing theme parks in Orlando.
On the "CBS Evening News," correspondent Mark Strassman made a similar point about the lack of signage about the animals.
"Gators are part of the landscape at Walt Disney World," Strassman said. "We found some signs inside the park warning against feeding alligators. But at the lagoon where Lane Graves was killed, signs say, 'No swimming.' No signs warn about alligators, despite the fact that Disney has had to relocate gators discovered in the park in the past. Disney said it will reevaluate those messages."