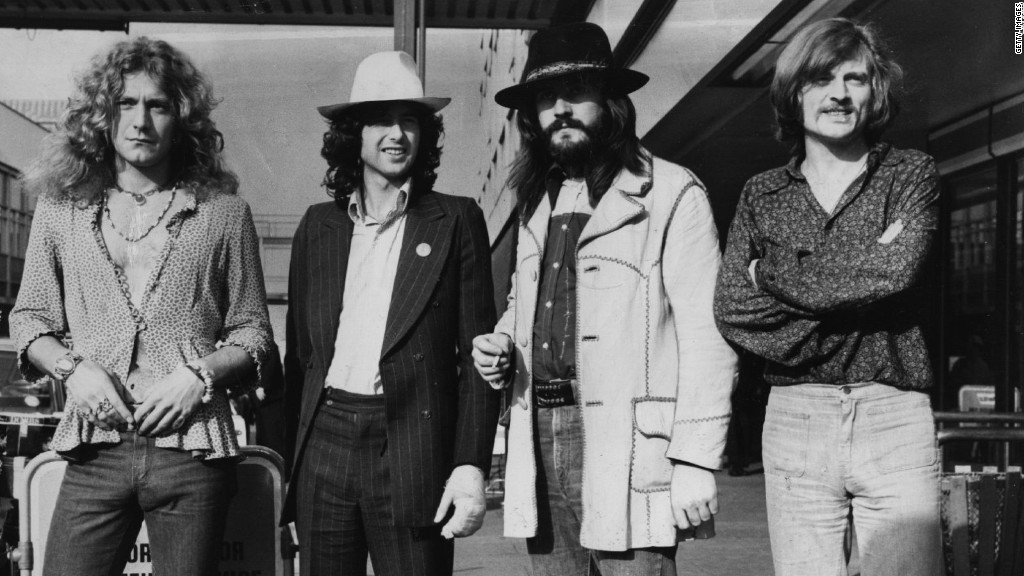 Led Zeppelin guitarist Jimmy Page told a court Wednesday that he didn't copy key notes from another band's song for the group's famous "Stairway to Heaven."
In fact, Page said he didn't hear the other song, "Taurus" by a group named Spirit, until two years ago.
Page, dressed in a dark three-piece suit, took the stand in a Los Angeles courtroom because he and Led Zeppelin frontman Robert Plant are accused of copyright infringement.
The allegation claims they copied key note patterns in the first two minutes of their hit from another song by the 1960s psychedelic band, Spirit. That song, "Taurus," is an instrumental ballad released four years prior to "Stairway to Heaven."
"Something like that would stick in my mind. It was totally alien to me," Page told the court.
The court session offered up a contrast in style: The plantiff's hard charging lawyer, Francis Malofiy, peppering a reserved and polite Page about the rocker's familiarity with Spirit's music.
Related: 'Stairway to Heaven' suit: What you need to know
Page smiled and said he "rather enjoyed Spirit," but did not recall ever hearing the group live. Earlier, Malofiy tried to establish through witness testimony that Spirit and Led Zeppelin played several U.S. concert gigs on the same bill, including large festivals.
The questioning of Page drew laughs several times, like when Malofiy asked him if he was a session musician. Page told the court he began playing guitar at age 12.
"Later on you had a gift of playing the guitar?" Malofiy asked.
Page, one of rock's premiere guitarists, broke into a wide smile and said, "Well, yeah." The gallery on both sides in the courtroom erupted in laughter.
Page testified that he first remembered hearing "Taurus" on the internet two years ago. He said his collection of more than 4,000 vinyl records contains five by Spirit.
Recognition and damages are being sought by the estate of musician/songwriter Randy Craig Wolfe, a Spirit band member who was known professionally as "Randy California." Wolfe died in 1997. His estate filed the lawsuit in 2014, the same year Led Zeppelin released a remastered version of "Stairway to Heaven."
Copyright cases have resulted in increasing scrutiny -- and damages -- within the music industry.
Condé Nast Portfolio estimated in 2008 that "Stairway to Heaven" had earned more than $562 million in publishing royalties and record sales since it's 1971 release.
Last year, Robin Thicke and Pharrell Williams were ordered to pay the estate of singer Marvin Gaye $7.4 million after a jury found their song "Blurred Lines" had taken riffs from Gaye's classic "Got to Give It Up."
Testimony will resume Thursday with Page back on the stand. Plant is also expected to be called to the stand before the trial wraps early next week.