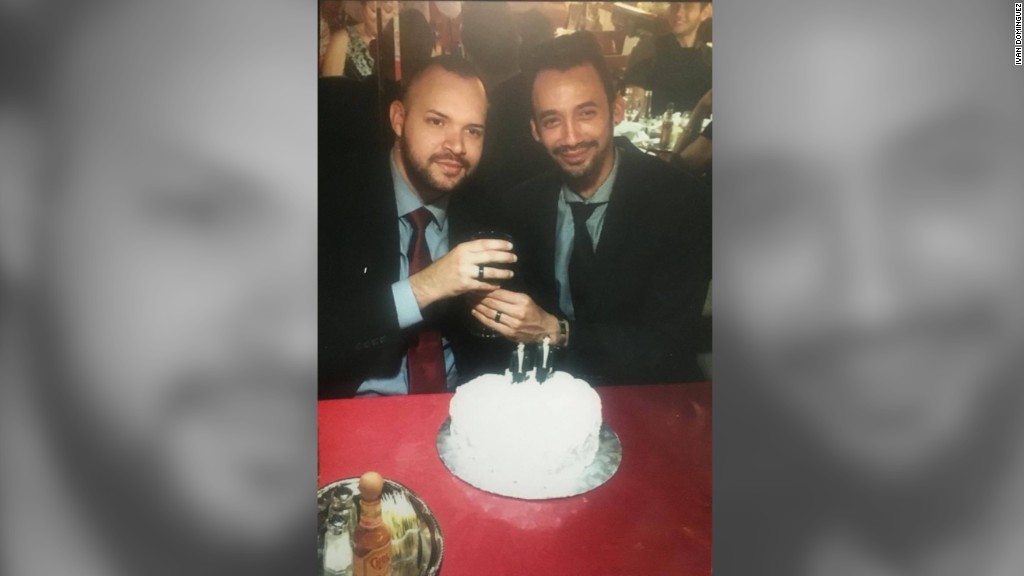 Eric Ivan Ortiz-Rivera came to Florida, like so many Puerto Ricans, seeking a better job and a brighter future.
It all ended in heartbreak when Ortiz-Rivera became victim to the worst mass shooting in U.S. history at the Orlando nightclub this past weekend.
About half of the victims -- 23 of the 49 -- were of Puerto Rican descent, according to the Puerto Rico's deputy secretary of state, Rolando Padau.
"The deplorable crime that occurred in the dawn on Sunday in Orlando has touched very close to the Puerto Rican community," the island's governor, Alejandro Garcia Padilla, said in a statement.
Orlando is a popular destination for many Puerto Ricans to relocate to from the island, which is suffering through a severe economic crisis. The weather is similar, a lot of people speak Spanish and lots of retail, hotel and leisure jobs are easy to find.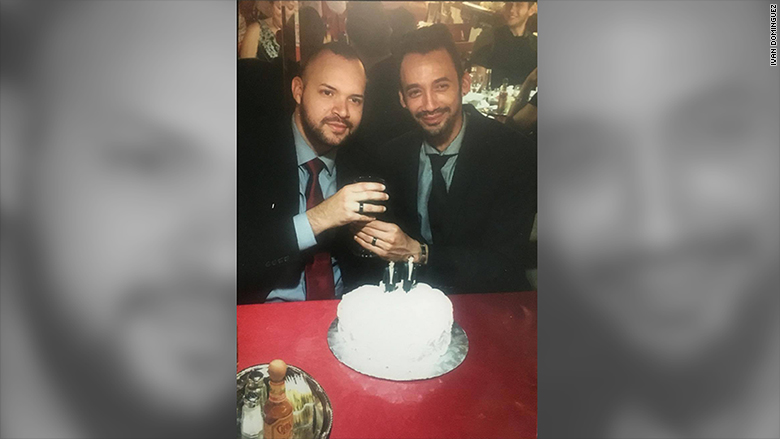 Ortiz-Rivera arrived in Florida in 2007, just a year after Puerto Rico's decade-long recession began in 2006. Ortiz-Rivera was 36 and was close to celebrating his one-year wedding anniversary to husband Ivan Dominguez, who is from Panama.
Related: Victims of the terror in Orlando
The couple started dating in 2014 after being friends for years, and Ortiz-Rivera proposed to Dominguez last year. In a small, private ceremony, they married on June 26, 2015 -- coincidentally the same day the Supreme Court upheld gay marriage rights across the country.
"That day we were really happy," Dominguez told CNNMoney. "He had two jobs to give us a really good life. I was always really grateful."
Ortiz-Rivera grew up in Dorado, Puerto Rico, a half hour drive from San Juan, and graduated from the Central University of Bayamon with a degree in communications.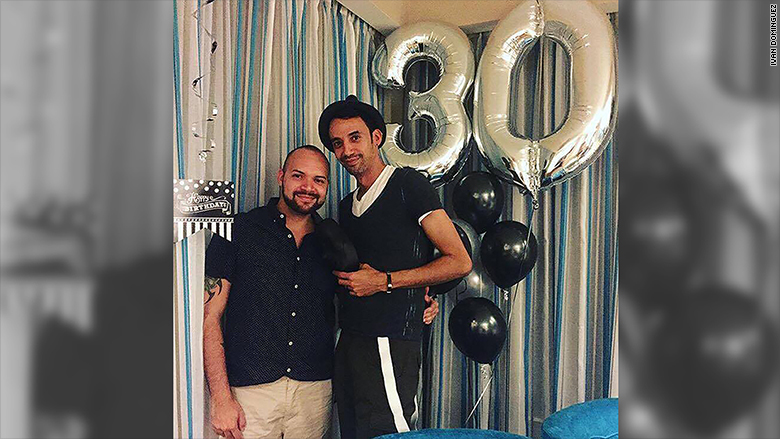 His family describes Ortiz-Rivera as shy, yet cheerful, with a quick laugh. He liked staying home to watch his favorite TV shows and cook homemade dishes -- especially slow roasted pork, beans and rice. In his free time, he enjoyed going to Disney World and spending time in the theme parks.
Related: House passes Puerto Rico bill
Of late, he actually wasn't much of a partygoer -- and Dominguez says he didn't even like the nightclub Pulse. He had attended a friend's house warming party Saturday night and was coaxed into going out to Pulse. Dominguez had to work Sunday, so he stayed home, only to be woken up to Sunday's horror.
Like many Americans, Ortiz-Rivera worked two jobs to make ends meet. He had a full-time job at Party City and a part-time gig at Sunglass Hut. He worked 65 hours per week, Dominguez says.
"Eric moved here for a better opportunity...He was doing what he needed to do to survive," says Lizette Ortiz, his cousin. Puerto Ricans "pick Orlando because Orlando is a safe place to live in."
Several attempts to reach Ortiz-Rivera's mother and sister were unsuccessful. People who described themselves as his former colleagues said on social media that he was an "angel."
Dominguez and his in-laws scheduled Ortiz-Rivera's funeral for Thursday.
Related: Puerto Rico's debt crisis: how it got so bad
His story is like that of so many from Puerto Rico, which is in the midst of a severe debt crisis after years of recession. Schools and hospitals are low on books and medical supplies. Poverty is rampant. The unemployment rate in Puerto Rico is 11.7%, way above the U.S. national rate of 4.7%.
Many Puerto Ricans have had enough and are moving to mainland U.S. in search of better jobs. According to Census data, over 250,000 people have left Puerto Rico between 2010 and 2015. The island's population has dwindled since 2000.
Many of those Puerto Ricans are moving specifically to Orlando, which has the highest metro area population of Puerto Ricans in Florida. In 2013, about 314,000 people of Puerto Rican descent were living in Orlando, up 15% from the year prior, according to the most recent analysis by Pew.
Since 2000, Florida's Puerto Rican population has doubled and now over 1 million live in the state.
Last year, Puerto Rico's government defaulted on its debt for the first time in its history. It has defaulted two more times since then amid pleas to Congress for a resolution. A bill in Congress to resolve Puerto Rico's debt problems recently passed the House. The Senate vote comes soon and it's expected that President Obama will sign the bill too.
For Ortiz-Rivera's family, this attack seems especially cruel. Already, it appears many on the island know someone affected by the attack.
"There were too many Puerto Ricans there," says cousin Lizette Ortiz.