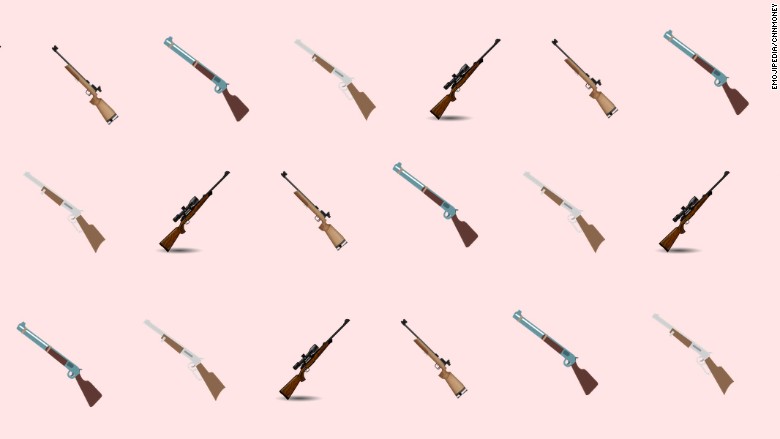 A gun has gone missing, and it might be Apple's doing.
A rifle emoji will not be included in the Unicode 9.0 update coming out June 21. The gun was previously listed as a new emoji candidate, alongside tiny illustrations for a selfie, shrug, drums, and a disturbing clown.
The decision to strike the rifle was made at a Unicode Consortium meeting in May. Apple (AAPL) and Microsoft (MSFT) argued against it, according to Buzzfeed's premier Unicode beat reporter Charlie Warzel. Apple was the company that first suggested removing it and said it would not include it on its operating systems, according to Warzel's source.
An emoji called "modern pentathlon" depicting a man firing a pistol was also removed.
Apple and Microsoft did not immediately respond to requests for comment.
Related: Get ready for 'facepalm' and 'selfie' emojis
The Consortium is the governing body in charge of the increasingly popular emoji standard. It determines what new images are added, then the characters are eventually supported across various operating systems and services. Apple and Microsoft are members of the group, which also includes Google (GOOG), Facebook (FB) and Yahoo (YHOO).
The rifle emoji was originally suggested as part of a collection of Olympic-themed images. Shooting sports are included in the games. However, there were immediate objections to the weapon, including from a gun control group in the UK. Guns and gun control are increasingly fraught topics, and tech companies may have been attempting to sidestep any controversy. There is already a handgun emoji, for anyone who really needs to discuss firearms with tiny cartoons.
A Unicode member who was present at the meeting told Buzzfeed the decision shows that major tech companies are "truly realizing what a big deal these emojis are."