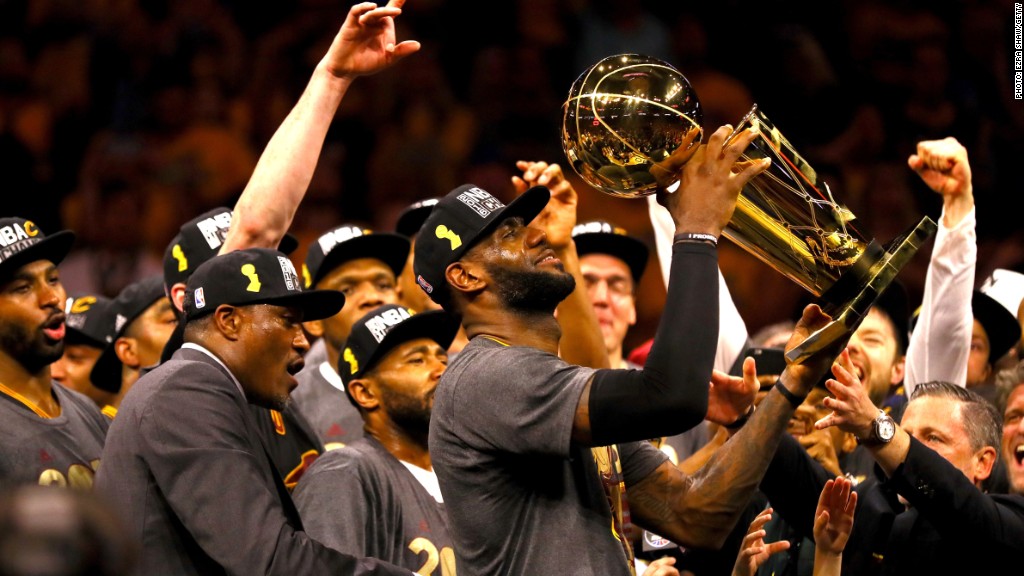 The Cleveland Cavaliers ended more than a half century of misery for sports fans in Northeast Ohio by winning the NBA championship Sunday night.
But Steph Curry of the Golden State Warriors was still beating Cavs star (and NBA Finals MVP) LeBron James in one area off the court on Monday. Wall Street.
Under Armour (UA), the athletic apparel company that Curry endorses, was up more than 3%.
An analyst at Buckingham Research boosted his rating on the stock to a "buy" and increased his price target. (I guess he's not worried about the social media backlash to the Curry Two Low "Chef" shoes.)
Don't shed any tears for Team Swoosh and LeBron though. Nike (NKE) shares were up 2.5% as well.
Related: LeBron James is worth every penny
Nike was quick to capitalize on its top spokesperson's success. It had a commercial ready to air shortly after the game on Sunday, a touching tribute to the long-suffering fans in Cleveland.
Still, it's worth noting that the entire market was surging Monday -- and it had nothing to do with basketball.
Stocks were soaring due to hopes that the U.K. (a place where kicking a ball through a net instead of shooting it through one is far more popular) would vote to remain in the European Union.
In fact, the top European rival to Nike and Under Armour -- Germany's Adidas (ADDDF) -- was up 3%.
Adidas is also up 35% this year, while Under Armour has fallen 8% and Nike has dropped 12%. It just goes to show that Vince Lombardi may have been wrong about winning being everything.
The most famous NBA star endorsing Adidas -- James Harden of the Houston Rockets -- has been a spectator since late April. Curry's Warriors knocked the Rockets out of the playoffs in the first round.