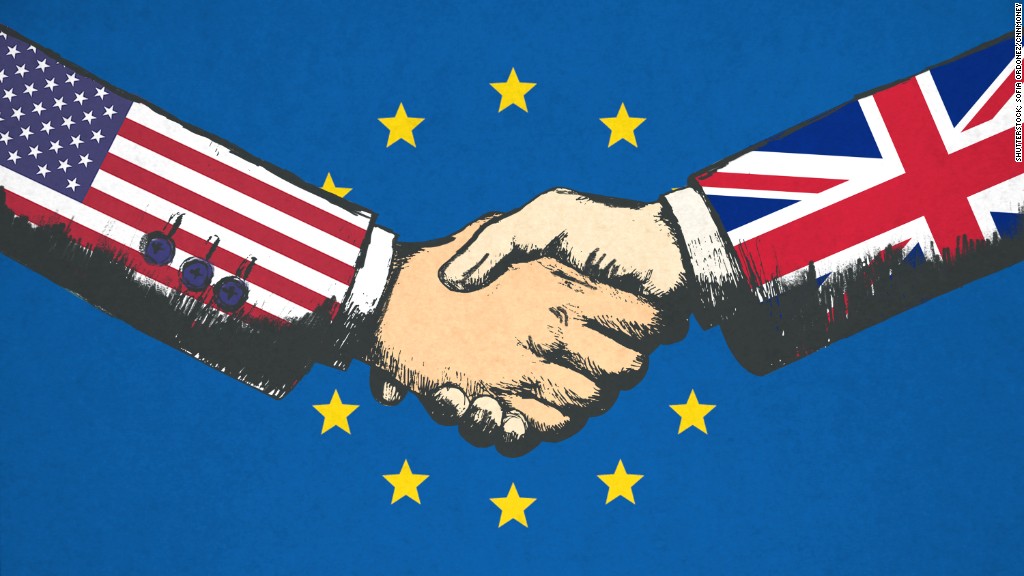 Americans don't seem all that worried about the possibility of the United Kingdom leaving the European Union ... the so-called "Brexit." Should they be?
According to data from FactSet Research, 30 companies in the S&P 500 generate more than 10% of their sales from the U.K.
But these companies have outperformed the broader market by a wide margin -- a 16.7% gain since the Brexit vote date was first set on February 20 versus a 11.3% increase for the overall S&P 500.
Wall Street clearly expects Britain will vote Thursday to remain in the EU.
Even soccer star (and hubby of Posh Spice) David Beckham voiced his support for staying. For what it's worth, so have investing guru George Soros and British business giant Richard Branson.
Related: Soros warns of Brexit 'Black Friday' and Dr. Doom agrees
JPMorgan Chase CEO Jamie Dimon has warned that leaving the EU would be bad for big banks like his. That's because membership in the EU allows JPMorgan Chase a "passport" to do business with European consumers from London.
American companies can operate anywhere in the EU as long as they establish a branch or subsidiary in one of its 28 member states.
London is the most convenient option for many firms, because of the language, huge talent pool, and easy access to the rest of Europe. It's home to 40% of the European headquarters of the world's 250 top companies, according to a research by Deloitte. Paris hosts just 8%.
Dimon said that JPMorgan Chase (JPM) may have to consider cutting jobs in the U.K. and adding more on the European continent if the Brexit vote succeeds.
If traders are wrong though, that could lead to some volatility in the market. To paraphrase the seminal U.K. punk band The Clash, if the Brits leave the EU there will be trouble. (British opponents of the EU may argue that if they stay it will be double.)
So which "Yankee Doodle Dandy" firms have the biggest presence in the U.K.?
The company with the most exposure by far might paradoxically benefit from a Brexit -- gold miner Newmont.
While Newmont (NEM) generated 64% of its revenue from sales to customers in Britain last year, the company (along with many other miners) has surged this year as worries about a Brexit and other global economic turmoil has caused gold prices to skyrocket.
Related: Why you should care about the Brexit vote
Other American companies do face more risk from a Brexit though.
Beer behemoth Molson Coors (TAP) had more than a third of its sales coming from the U.K.
Electric utility PPL (PPL) may be based in Allentown, Pa. (Cue the Billy Joel.) But the company generates more than 30% of its sales from Britain thanks to its 2011 acquisition of U.K. utility Central Networks.
Insurance broker Willis Towers Watson (WSH), which just joined the S&P 500 in December, gets more than a quarter of its revenues from the U.K. Two big money managers -- Invesco (IVZ) and BlackRock (AOCXX) -- generate more than 20% of their sales from Britain.
Oil company Apache (APA), auto replacement parts maker LKQ (LKQ) and commercial real estate broker CBRE (CBG) also get about 20% of their revenues from the U.K.
So does Rupert Murdoch's News Corp (NWS). -- which owns several newspapers in Britain.
Interestingly, two of those publications are taking different sides. The Times has endorsed staying in the EU, while the tabloid Sun is in favor of a Brexit. It recently ran a cover story urging readers to "BeLEAVE in Britain."
For now, Wall Street still believes that the U.K. will remain. Bremain? (Sorry. Enough of the goofy "Br" prefixes.)
But we'll see on Friday if investors need to brace for a broad sell-off once the final votes are tallied.