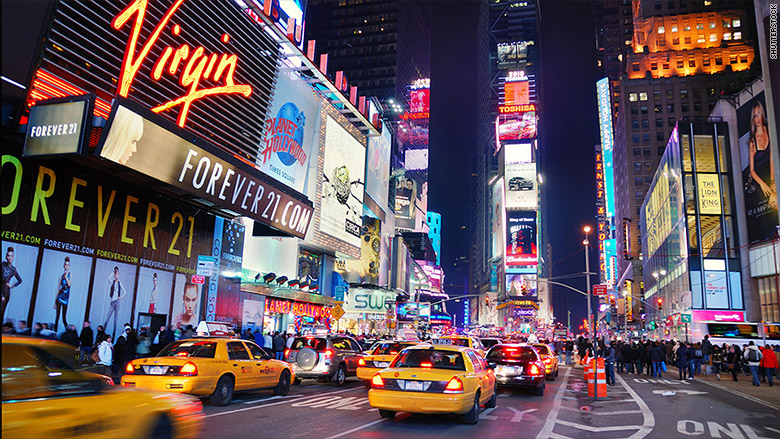 Where in the world do women entrepreneurs have the most support?
New York.
In fact, New York beat out 24 other global cities as the top city for attracting and fostering women-owned businesses, according to a new report commissioned by Dell.
The study, conducted in the spring of 2016, evaluated 50 cities around the world on access to capital, technology, workforce talent, culture and markets.
San Francisco, London, Stockholm and Singapore rounded out the top five.
But while New York took the No. 1 spot in the Dell Women Entrepreneurs Index, it still scored 58.6 out of 100, or just barely over 50%, in the five categories that were analyzed.
"It implies there's room for improvement," said Jim Diffley, senior director at IHS, a consulting group that partnered with Dell on the report.
Related: These women engineers are turning science into cash
And while New York ranked first in access to capital and markets, it came in at #17 in the technology category, which measured how female entrepreneurs were using the internet and smart devices for transactions.
Diffley said cost and access to technology negatively influenced this category in New York.
"It turns out that technology costs were lower in Asian and European cities. So cost [of technology] became a marginal deterrent to women entrepreneurs in New York," he said.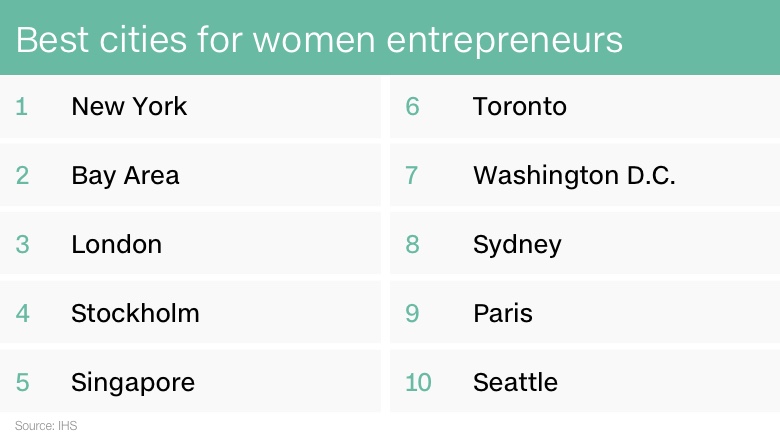 There were additional indicators in each of the five categories, more than half of which had a gender-based component.
"For example, for access to capital, we looked at the number of VC firms in a city with female founders or the percentage of VC funding that was going to women business owners," Diffley said.
Related: She gave the Kardashians a taste of Cuba
Dell had previously commissioned studies to rank the best countries for women entrepreneurs. This is the first that specifically looks at cities.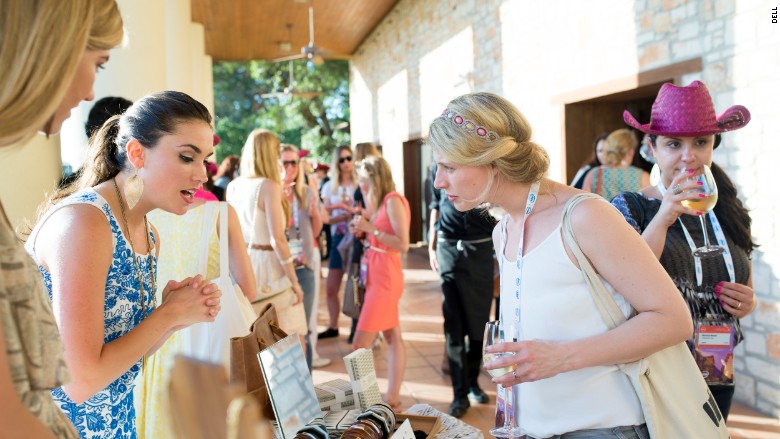 "The impact of local policy can be a game changer -- it's a big reason why New York City came in above the other U.S. cities in the study," said Elizabeth Gore, Dell's entrepreneur in residence. "City governments are able to be more agile and implement policy changes faster in order to help the communities they serve."
Related: Women cash in on the marijuana boom
Toronto, Washington D.C., Sydney, Paris and Seattle were the other cities in the top 10.
At the bottom were Delhi, Johannesburg, Jakarta and Istanbul.